2016 Presidential Election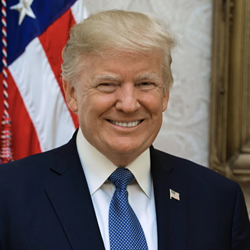 Donald J. Trump

Change History!
2016 interactive map
The United States presidential election of 2016 was the 58th quadrennial American presidential election, held on Tuesday, November 8, 2016. The Republican ticket of businessman Donald Trump and Indiana Governor Mike Pence defeated the Democratic ticket of former Secretary of State Hillary Clinton and U.S. Senator from Virginia Tim Kaine.
While Clinton received about 2.9 million more votes nationwide, a margin of 2.1% of the total cast, Trump won a victory in the Electoral College, winning 30 states with 306 pledged electors out of 538, and overturned the perennial swing states of Florida, Iowa and Ohio, as well as the "blue wall" of Michigan, Pennsylvania and Wisconsin, which had been Democratic strongholds in presidential elections since the 1990s. Leading up to the election, a Trump victory was projected unlikely by most media forecasts.
In the Electoral College vote on December 19, there were seven faithless electors; two defected from Trump while five defected from Clinton. Three other Clinton electors attempted to defect but were replaced or forced to vote again due to their respective state laws. Ultimately, Trump received 304 electoral votes and Clinton garnered 227, while Colin Powell won three, and John Kasich, Ron Paul, Bernie Sanders, and Faith Spotted Eagle each received one.
Trump became the fifth person in U.S. history to become president despite losing the nationwide popular vote. He is the first president without any prior experience in public service, while Clinton was the first woman to be the presidential nominee of a major American party.
Source: Wikipedia
2016 Election Results
| | | Candidate | Party | Electoral Votes | Popular Votes |
| --- | --- | --- | --- | --- | --- |
| ✓ | | Donald J. Trump | Republican | 304 | 62,984,828 |
| | | Hillary R. Clinton | Democratic | 227 | 65,853,514 |
| | | Gary Johnson | Libertarian | 0 | 4,489,341 |
| | | Jill Stein | Green | 0 | 1,457,218 |
| | | Evan McMullin | Independent | 0 | 731,991 |
| | | Other: See Election Facts Below | | 7 | |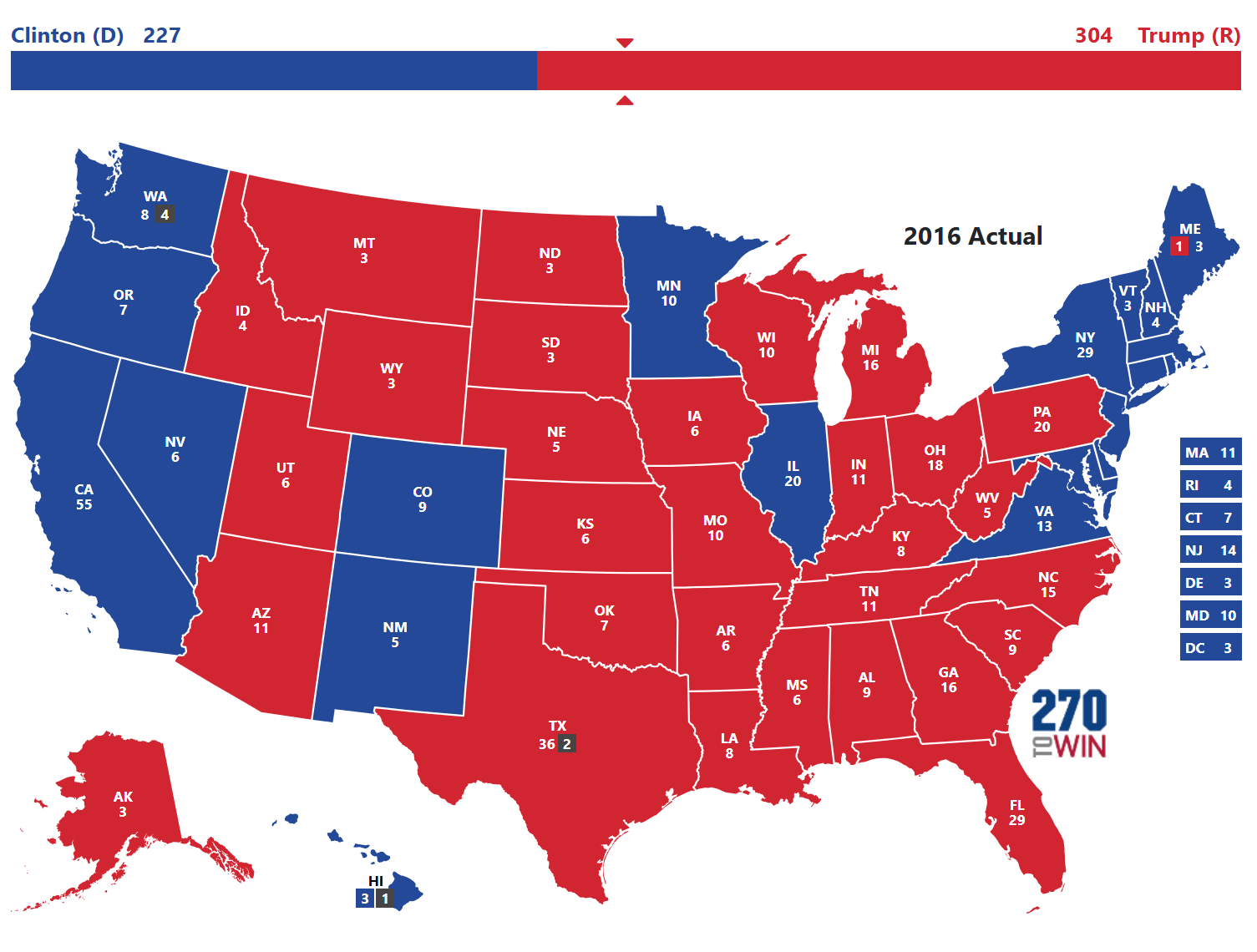 2016 Election Facts
Popular vote totals from Federal Elections 2016.
Issues of the Day: Health care costs, Economic inequality, Terrorism, Foreign policy (Russia, Iran, Syria, Brexit), Gun control, Treatment of minorities, Immigration policy, Shifting media landscape
One of only 5 elections (1824, 1876, 1888, 2000, 2016) where the popular vote winner was defeated
Hillary Clinton first female presidential nominee of a major political party
Clinton won Maine but Trump earned an electoral vote by winning the popular vote in the 2nd Congressional District. This marked the first time that Maine has split its electoral vote since it moved away from the winner-take-all method in 1972.
Independent Evan McMullin received 21.5% of the vote in Utah; best '3rd party' performance in any single state since Ross Perot in 1992
Libertarian Gary Johnson received over 3% of the nationwide vote; best 3rd party performance nationwide since Ross Perot in 1996
There were seven faithless presidential electors. Aside from 1872 - death of Horace Greeley - it is the greatest number since electors began casting one vote each for president and vice president (12th Amendment, 1804). Three additional faithless votes, one each in Colorado, Maine and Minnesota, were disallowed.
Clinton won Washington; however three electors cast votes for Colin Powell, one for Faith Spotted Eagle
Trump won Texas; however one elector cast a vote for Ron Paul, another for John Kasich
Clinton won Hawaii; however one elector cast a vote for Bernie Sanders
Margin of Victory Map
This map is shaded by how large the popular vote difference was between the two nominees. It is a way to view the relative competitiveness of each state. These maps are also available as a timeline for each election from 1972-2020.