Wyoming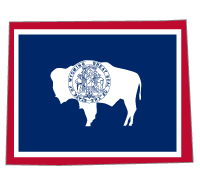 Wyoming became a state in July 1890, just one week after neighboring Idaho. The two states have shared a similar history in presidential elections as well. In fact, since 1904, they both have voted identically, except in 1944 when the state's residents preferred Republican Thomas Dewey over FDR. Like most other states of the Mountain West, Wyoming is currently a Republican stronghold in presidential elections, having voted Democratic just once since 1952 – the 1964 landslide victory of Lyndon Johnson over Barry Goldwater. In 2016, Donald Trump beat Hillary Clinton by 46%; it was Trump's widest margin of victory in any state. Wyoming has the smallest population of any state in the Union, and is the most over-represented state in the electoral college.
Voting History
State voted with the overall winning candidate
Electoral College Votes
Colored bars represent electoral votes by party. Tap to see names. 2020 electoral votes shown in dark green until after the election.