Vermont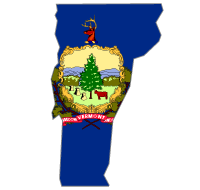 Vermont, the first state admitted after the original 13 colonies, joined the Union in March 1791, and has participated in every election since 1792. While current-day Vermont is reliably Democratic in national elections, it is interesting to note that from the founding of the modern Republican Party in 1854 through the election of 1988, Vermont went Republican in every election except 1964, when it voted for Lyndon Johnson over Barry Goldwater. In 1992, Vermont broke this tradition, voting for Bill Clinton over George Bush, and has been "blue" ever since. In 2016, Hillary Clinton beat Donald Trump by a margin of 56% to 30%, easily winning the state's three electoral votes.
Voting History
State voted with the overall winning candidate
Electoral College Votes
Colored bars represent electoral votes by party. Hover to see names. 2020 electoral votes shown in dark green until after the election.