Tennessee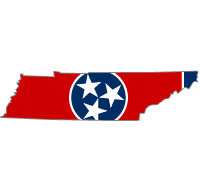 Tennessee joined the Union as the 16th state in June 1796; it would be the last state admitted during the 18th century. Tennessee seceded from the Union during the Civil War and did not participate in the 1864 election. Like many southern states, Tennessee voted almost exclusively Democratic from Reconstruction until after World War II. Since the 1950s, Republicans have usually won here, although there have been a few exceptions, most recently Bill Clinton (with home-state Senator Al Gore as vice president) in 1992 and 1996. Interestingly, Gore lost the state in 2000 when he headed the Democratic ticket. In 2016, Donald Trump defeated Hillary Clinton by a margin of 61% to 35%. Other than Barack Obama's two terms and in 1960, when they chose Richard Nixon over John F. Kennedy, the state's voters have sided with each election winner since 1928.
Voting History
State voted with the overall winning candidate
Electoral College Votes
States' Rights Democratic
Colored bars represent electoral votes by party. Hover to see names. 2020 electoral votes shown in dark green until after the election.
Gray indicates available electoral votes that were either not cast or cast for a candidate not on the ballot.
An empty column indicates the state did not participate in that election.