South Dakota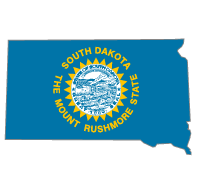 South Dakota entered the Union in November 1889, one of four states admitted in the first part of that month, the busiest period of new-statehood creation in U.S. history. South Dakota is reliably Republican in presidential elections – only voting Democratic four times, most recently in 1964 when Lyndon Johnson won a landslide victory over Barry Goldwater. South Dakota is one of seven states with the minimum three electoral votes. In 2016, Donald Trump defeated Hillary Clinton by a margin of 30 points.
Voting History
State voted with the overall winning candidate
Electoral College Votes
Colored bars represent electoral votes by party. Hover to see names. 2020 electoral votes shown in dark green until after the election.