Pennsylvania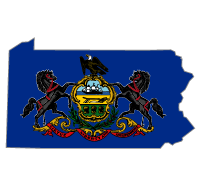 Pennsylvania, where the U.S. Constitution was written, was the second state admitted to the Union, officially becoming a state in December 1787. The Keystone State has participated in all 58 presidential elections through 2016. Pennsylvania is generally considered a battleground state, although it voted Democratic in the six elections prior to 2016. That election saw Donald Trump win the state by 0.7%, one of three 'blue wall' states (Michigan & Wisconsin the others) he won on his way to winning the presidential election.

While still an important prize, with 20 electoral votes, Pennsylvania, like many industrial northern states, has seen population migrate away in recent decades. Peaking at 38 electoral votes in the 1910s and 1920s (second only to New York), the state has lost 45 percent of its electoral clout in 80 years. It is currently expected to lose another electoral vote after the 2020 presidential election.
Voting History
State voted with the overall winning candidate
Electoral College Votes
Colored bars represent electoral votes by party. Tap to see names. 2020 electoral votes shown in dark green until after the election.
Gray indicates available electoral votes that were either not cast or cast for a candidate not on the ballot.