Oklahoma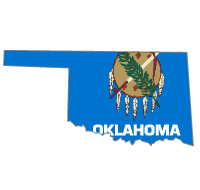 Oklahoma gained statehood in November 1907. The state voted Democratic in all but two elections through 1948, but has not gone Democratic since, except in the landslide win for Lyndon Johnson in 1964. Already fairly populous when admitted to the Union, the state had seven electoral votes in the 1908 election, the first in which it participated. No state outside the original 13 colonies, except Maine, started with more. In 2016, Donald Trump defeated Hillary Clinton by 65% to 29%, the fourth consecutive election that the Republican has won by over 30%.
Voting History
State voted with the overall winning candidate
Electoral College Votes
Colored bars represent electoral votes by party. Hover to see names. 2020 electoral votes shown in dark green until after the election.