New York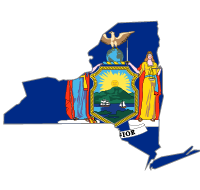 New York, one of the 13 original colonies, joined the Union in July 1788. However, the state did not choose electors in the first election due to an internal dispute. In the 1810 Census, New York became the nation's most populous state, and had the most electoral votes from the 1812 election until the 1972 election, when it relinquished that distinction to California.

Like many other Northeastern states, New York's electoral clout has diminished in recent years. In fact it has lost 2 or more electoral votes after the last 7 Censuses. Texas surpassed New York in electoral votes in 2004, and Florida will almost certainly do so after the next Census. New York has been primarily a "blue" state ever since the Great Depression, only siding with a losing Republican when it chose its then-current governor Thomas E. Dewey over Harry S. Truman in 1948. In 2016, Hillary Clinton easily defeated Donald Trump by 22% in the state.
Voting History
State voted with the overall winning candidate
Electoral College Votes
Colored bars represent electoral votes by party. Hover to see names. 2020 electoral votes shown in dark green until after the election.
An empty column indicates the state did not participate in that election.