Maryland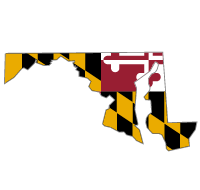 Maryland, one of the original 13 colonies, entered the Union in April 1788 and has participated in all 58 presidential elections. Maryland has been primarily a "blue" state since the founding of the modern political parties (around the time of the Civil War). Since 1960, Maryland has voted Republican only in the landslide wins of Richard Nixon in 1972, Ronald Reagan in 1984 and George H. W. Bush in 1988. In 2016, Hillary Clinton easily overcame Donald Trump here (60% to 34%).
Voting History
State voted with the overall winning candidate
Electoral College Votes
Colored bars represent electoral votes by party. Tap to see names. 2020 electoral votes shown in dark green until after the election.
Gray indicates available electoral votes that were either not cast or cast for a candidate not on the ballot.