Louisiana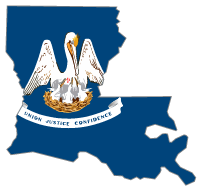 Louisiana, created mostly, but not entirely, from land bought from France in the Louisiana Purchase, became a state in April 1812. Louisiana seceded from the Union during the Civil War and did not participate in the 1864 election. The state's electoral votes were rejected in 1872 due to irregularities. Largely due to outward migration after Hurricane Katrina, Louisiana lost one electoral vote after the 2010 Census. Like many southern states, Louisiana voted Democratic from Reconstruction through World War II. Although perceived as solidly Republican today (Donald Trump won over Hillary Clinton by nearly 20 points in 2016), Louisiana has voted Democratic three times since 1976 when the nominee of that party was a Southern governor. Jimmy Carter won there in 1976, as did Bill Clinton, both in 1992 and 1996.
Voting History
State voted with the overall winning candidate
Electoral College Votes
States' Rights Democratic
Colored bars represent electoral votes by party. Hover to see names. 2020 electoral votes shown in dark green until after the election.
An empty column indicates the state did not participate in that election.