Hawaii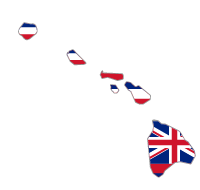 Hawaii, the 50th state, joined the Union in August 1959. The state had three electoral votes in the 1960 election, and has had four ever since. Hawaiians have voted Democratic in every election except the 1972 and 1984 contests, when the state gave wins to Richard Nixon and Ronald Reagan, respectively. (In those two landslide elections, the Democratic candidate won only one state plus Washington, D.C.) Native son Barack Obama easily won the state in 2008 and 2012, gaining over 70% of the vote both times. While 2016 saw a slightly closer result, Hillary Clinton's margin of nearly 32% was her largest in any of the 50 states. One of Hawaii's Electors was faithless that year, voting for Bernie Sanders, Clinton's primary challenger for the Democratic nomination.
Voting History
State voted with the overall winning candidate
Electoral College Votes
Colored bars represent electoral votes by party. Tap to see names. 2020 electoral votes shown in dark green until after the election.
Gray indicates available electoral votes that were either not cast or cast for a candidate not on the ballot.