Alaska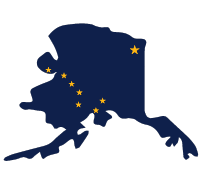 Alaska, the 49th state, entered the Union in January 1959, participating in its first presidential election in 1960. It had three electoral votes that year, and has maintained that number in the 14 subsequent elections through 2016. Alaska has voted reliably Republican, only voting Democratic for Lyndon Johnson's rout of Barry Goldwater in 1964. The last two elections have seen Republican nominees Mitt Romney and Donald Trump win the state by just under 15%.
Voting History
State voted with the overall winning candidate
Electoral College Votes
Colored bars represent electoral votes by party. Hover to see names. 2020 electoral votes shown in dark green until after the election.