Michigan Democratic Sen. Debbie Stabenow Won't Seek Reelection
By 270toWin Staff
January 5, 2023, 2:16 PM ET
Michigan Democratic Sen. Debbie Stabenow will not seek a fifth term in 2024, she announced Thursday.
Inspired by a new generation of leaders, I have decided to pass the torch in the U.S. Senate. I am announcing today that I will not seek re-election and will leave the U.S. Senate at the end of my term on January 3, 2025.

Read my full statement:https://t.co/qYJE6lyRJ3 pic.twitter.com/Fq659Aevs0

— Sen. Debbie Stabenow (@SenStabenow) January 5, 2023
Stabenow is the second Senator to retire this cycle, joining Republican Mike Braun, who is running for Indiana governor.
Inside Election's Erin Covey has this overview of who might try to succeed Stabenow. Covey notes that "it's likely to be one of the top races in the country for the entire cycle, with the presidential race at the top of the ballot having an impact on the Senate winner."
The 2024 Senate Map
Democrats face a very difficult map in 2024, and Stabenow's decision doesn't make their path to retaining the majority any easier. Including three independents who associate with the party, Democrats have to defend 23 of the 34 seats up next year.
Three of those states - Montana, Ohio, and West Virginia - are ones where the GOP presidential nominee will be solidly favored to win. Although the Democratic Senators from these three states defied the odds in 2018, it has become increasingly rare for a state to split its Presidential and Senate vote.
The map below shows the current partisan affiliation of the seats up in 2024. Note that both seats will be contested in Nebraska, as there will be a special election to complete the final two years of Republican Ben Sasse's term. Sasse resigns Sunday to become president of the University of Florida.
The 2024 Senate Interactive Map is expected to be live later in January.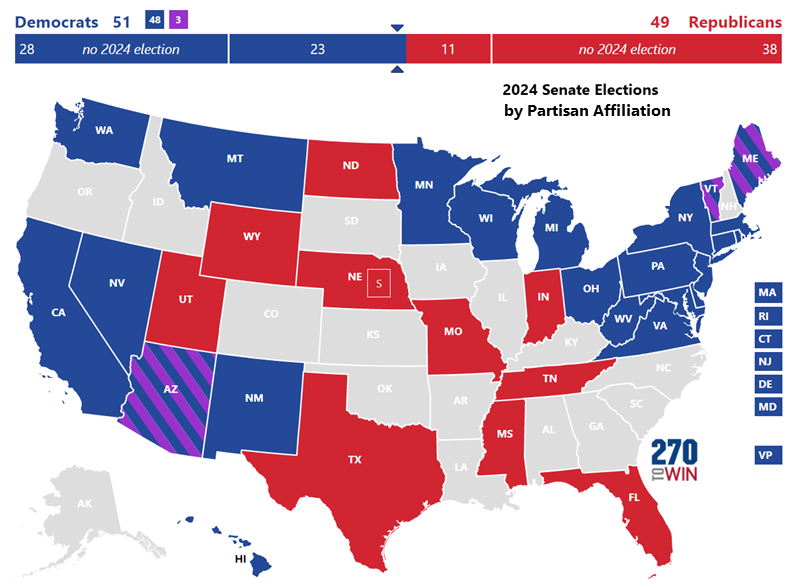 comments powered by

Disqus
Headlines