House Update: Four Seats Uncalled; GOP Majority Will Have 220-222 Seats
By 270toWin Staff
November 19, 2022, 9:46 AM ET
U.S. House
Republicans clinched the House earlier this week and will enjoy a narrow majority when the new Congress is seated in January. Currently, the party has won 219 seats, while Democrats have won 212. The Democratic total includes California 34, where one of two Democrats on the ballot will prevail.
Four seats remain uncalled. Of those, Democrats are expected to win Alaska's At-Large District, while Republicans are almost certain to win Colorado 3. That will bring the tally to 220-213. The remaining two Districts, California 13 and California 22, could break either way.
Colorado District 3
On Friday, Democrat Adam Frisch conceded to incumbent Republican Lauren Boebert. She leads by 554 votes, or 0.16%. This is close enough to trigger a mandatory recount under Colorado law. While it is extremely unlikely that a recount will change the outcome, a concession in and of itself has no legal standing and does not make the result official. Famously, in 2000, Al Gore retracted his concession of the presidential race to George W. Bush after doubt was cast on the outcome in Florida.
While Boebert will almost certainly prevail, most media will not call this race until the recount is complete.
Alaska At Large
Democrat Mary Peltola is expected to win a full term. If she doesn't cross the 50% threshold beforehand, the race will be finalized in the Ranked Choice tabulation on November 23.
California Districts 13 and 22
Both remaining elections are too close to call. Open after redistricting, In District 13, Republican John Duarte has a lead of less than 1% over Democrat Adam Gray. In District 22, incumbent Republican David Valadao has a lead of about 5%. Given the outstanding vote, more needs to be counted before a call can be made with required certainty.
California District 34 - Democratic Win
Resulting from the state's top two primary system, this is one of six districts where two Democrats met in the general election. It is the only one that remains uncalled. The incumbent, Jimmy Gomez, leads David Kim by about 3%. This is a rematch of 2020, where Gomez won 53% to 47%.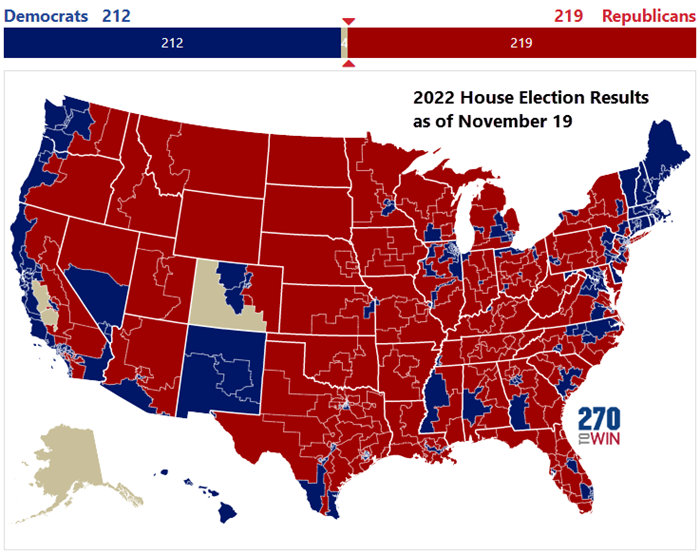 comments powered by

Disqus
Headlines