Republicans Clinch House Majority; Divided Government Returns to DC in January
By 270toWin Staff
November 16, 2022, 7:01 PM ET
U.S. House
Republicans clinched the House majority late Tuesday. CA-03, called by Decision Desk for Kevin Kiley, put the GOP over the top. The Associated Press made a similar call Wednesday evening, with CA-27 the decisive call there.
Based on Decision Desk calls, Republicans now have 219 seats, Democrats 208. The Democratic number includes CA-34, where two Democrats are on the ballot. Of the remaining eight seats, Democrats are likely to win in AK, CA-06, CA-13, and OR-06. That will make the total 219-212. The other four are up in the air, although Republican Lauren Boebert may be slightly favored at this point in CO-03. See the current map>
Alaska: This is expected to be decided in the Ranked Choice tabulation on November 23.
California: Some of these races will not end up being all that close, but the state's drawn-out process for counting also impacts when these races can be projected with the level of certainty required.
Colorado: One of the most highly visible contests left on the board, as polarizing GOP Rep. Lauren Boebert seeks a second term.
Oregon: District 6 is a new seat created in redistricting.
U.S. Senate
Democrats have retained the majority; the party will have 50 or 51 seats in the new Congress. The final total will be determined in a Georgia runoff on December 6. Pennsylvania is the only Senate seat that has flipped thus far. In Alaska, we know a Republican will win, but we won't know which one until November 23.
That runoff remains important. As Roll Call notes, "In a 50-50 Senate, operating precedents provide for equal membership on committee rosters, and committee rules generally require a majority vote for issuing of a subpoena without approval of the ranking member. Therefore, with just a one-seat advantage, Democratic committee chairs would yield additional powers."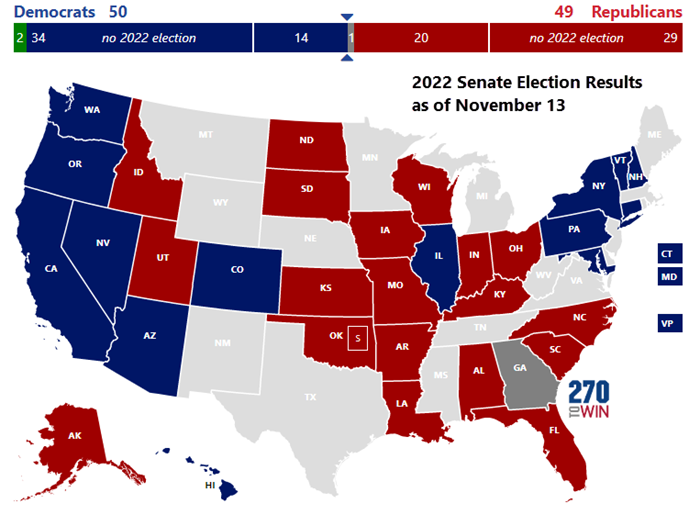 Governor
Only Alaska remains uncalled; that is expected to be won by the incumbent Republican Mike Dunleavy. Assuming this result, Democrats will come out of the 2022 elections with two additional governorships. The party gained seats in Arizona, Maryland, and Massachusetts. Republicans picked up Nevada.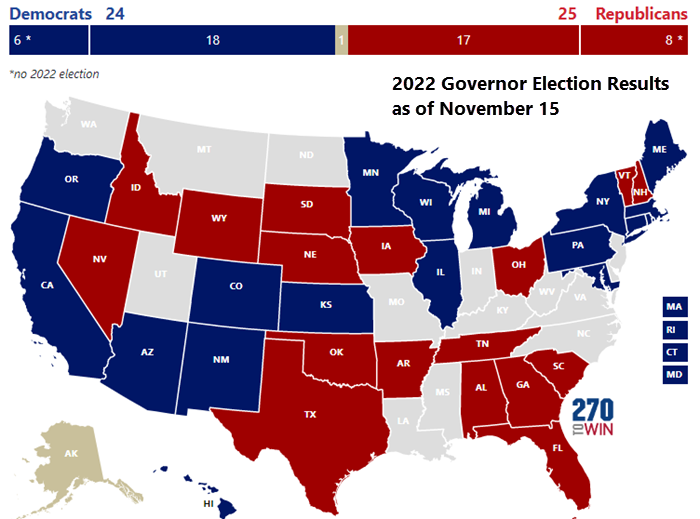 comments powered by

Disqus
Headlines