Democrats Retain Senate Control; 22 House Seats Remain Uncalled
By 270toWin Staff
November 13, 2022, 7:47 AM ET
U.S. Senate
Nevadans reelected Sen. Catherine Cortez Masto, earning Democrats the 50th seat needed to maintain control of the Senate in the 118th congress. The final seat will be determined in a Georgia runoff on December 6. Pennsylvania is the only Senate seat that has flipped thus far. In Alaska, we know a Republican will win, but we won't know which one until November 23.
That runoff remains important. As Roll Call notes, "In a 50-50 Senate, operating precedents provide for equal membership on committee rosters, and committee rules generally require a majority vote for issuing of a subpoena without approval of the ranking member. Therefore, with just a one-seat advantage, Democratic committee chairs would yield additional powers."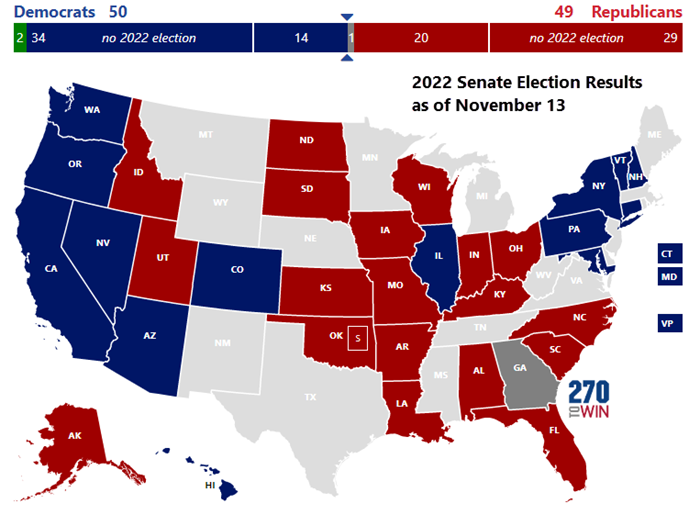 U.S. House
Our results provider Decision Desk has called 410 House races. Republicans have won 210 seats, Democrats 200.
There are three uncalled races in California where both candidates on the ballot are Democrats. That will bring the Democratic total to 203.
To keep control, Democrats must win at least 15 of the 22 remaining races. Follow the live results below. We've also highlighted a few cases where either the Associated Press or ABC News has made a race call not yet made by Decision Desk.
Alaska: This is expected to be decided in the Ranked Choice tabulation on November 23.
Arizona: Redistricting made this seat more competitive by expanding it into more of Phoenix.
California: A number of these races will not end up being all that close, but the state's drawn-out process for counting also impacts when these races can be projected with the level of certainty required.
ABC has called Districts 6 Democrat Ami Bera. Both ABC and the Associated Press have called Districts 26 and 39 for Democrats Julie Brownley and Mark Takano, respectively.
Colorado: One of the most highly visible contests left on the board, as polarizing GOP Rep. Lauren Boebert seeks a second term.
Maine: This is expected to decided via Ranked Choice tabulation this Tuesday, November 15.
New York: Both ABC and the Associated Press have called District 4 and District 19 for Republicans Anthony D'Esposito and Marcus Molinaro, respectively.
Oregon: These are both open seats. District 6 is a new seat from redistricting, while District 5 incumbent Democrat Kurt Schrader lost his primary to a more progressive candidate.
comments powered by

Disqus
Headlines