Alaska At-Large Congressional District Special Election: Ranked Choice Results
By 270toWin Staff
August 31, 2022, 5:51 PM ET
On Wednesday, Alaskans will find out who will represent them in the U.S. House through the end of the year. The state's single at-large district has been vacant since March, when GOP Rep. Don Young died. Young had held the seat since 1973.
As no candidate received a majority of the first-choice vote in the August 16 election, the winner will be determined via ranked choice voting. Ballots mailed from overseas, postmarked by Election Day, could arrive up to 15 days later and still be counted. This is why the process was not completed prior to August 31.
The Alaska Division of Elections will run the ranked choice voting tabulation in the 8:00 PM Eastern Time hour. Access the live stream here.
The table below should update with the final result when available. Until that time, it will reflect the first choice results (August 16 voting).
How we got here
After Young's death, an all-party primary was scheduled for June 11. There were 48 candidates on the ballot, with the top four advancing to the August 16 special election. Sarah Palin, the former governor and 2008 Republican vice presidential nominee, finished first with 27% of the vote. Fellow Republican Nick Begich had 19%. Independent candidate Al Gross was third with 13%, and Democrat Mary Peltola took the final spot with 10%.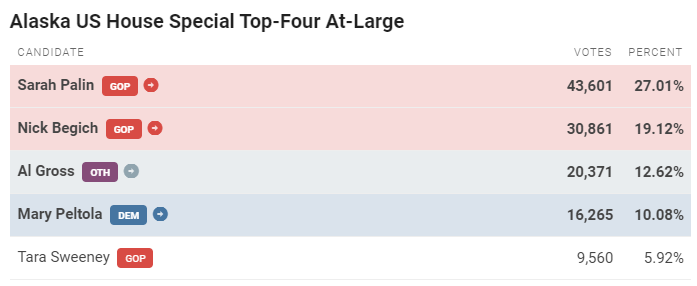 Nonpartisan Al Gross, the third place finisher, subsequently withdrew and endorsed Peltola. That left three candidates, as well as the option for a write-in, on the August 16 special election ballot.
This table shows the vote tabulation as of Wednesday afternoon. It includes those who did a write-in as first choice. To the extent those voters also ranked named candidates on the ballot, they will be included in the tabulation.
Assuming these first choice results hold, the final round will see Begich's votes reallocated between Peltola, a former state representative, and Palin. The final result is likely to be close.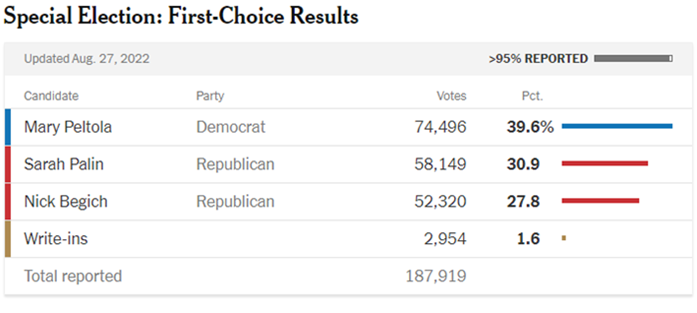 comments powered by

Disqus
Headlines