House Update: Partisan Composition, Retirements, Redistricting
By 270toWin Staff
June 16, 2022, 11:22 AM ET
Partisan Composition of the U.S. House
Republican Connie Conway (CA-22), who won a recent special election, was sworn in earlier this week. Democrats now hold a 220-209 edge over Republicans. There are six vacancies.
Create your own election forecast with the 2022 House Interactive Map.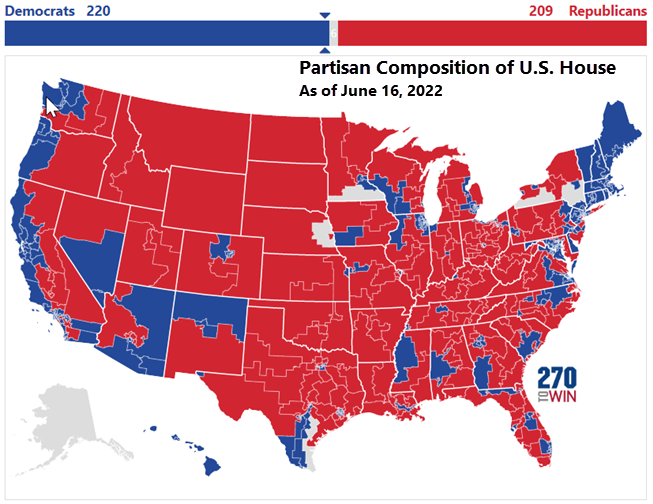 Upcoming Special Elections
One of the six open seats will be filled by Republican Mayra Flores, who won the special election in TX-34 on Tuesday. This is a GOP flip; the seat was formerly held by Democrat Filemon Vela.
| | | | | |
| --- | --- | --- | --- | --- |
| District | Party* | Primary | General | Notes |
| AK-AL | R | June 11 | August 16 | Don Young died in March. 48 candidates competed in the primary, with the top four advancing. This includes Republicans Sarah Palin and Nick Begich, along with Al Gross (nonpartisan). As of this writing, Democrat Mary Peltola holds the final spot. The general will be conducted using ranked choice voting. |
| MN-1 | R | May 24 | August 9 | Jim Hagedorn died in February. Brad Finstad (R) and Jeff Ettinger (D) won their respective party primaries. |
| NE-1 | R | | June 28 | Jeff Fortenberry resigned in March. The parties directly nominated Mike Flood (R) and Patty Brooks (D). |
| NY-19 | D | | August 23 | Anthony Delgado resigned in May to become Lt. Gov. of New York. The parties directly nominated Pat Ryan (D) and Marc Molinaro (R). |
| NY-23 | R | | August 23 | Tom Reed resigned in May. The parties directly nominated Joe Sempolinski (R) and Max Della Pia (D). |
* Party of prior incumbent
Retirements
55 current members of the House - 33 Democrats and 22 Republicans - will not be standing for reelection in November. This includes the aforementioned Connie Conway; she did not run for a full two-year term in the California statewide primary.
Five of the departures are incumbents who were defeated in a party primary. The most recent of those was Republican Tom Rice (SC-07), who was ousted this past Tuesday.
Click on the map below to see the full list.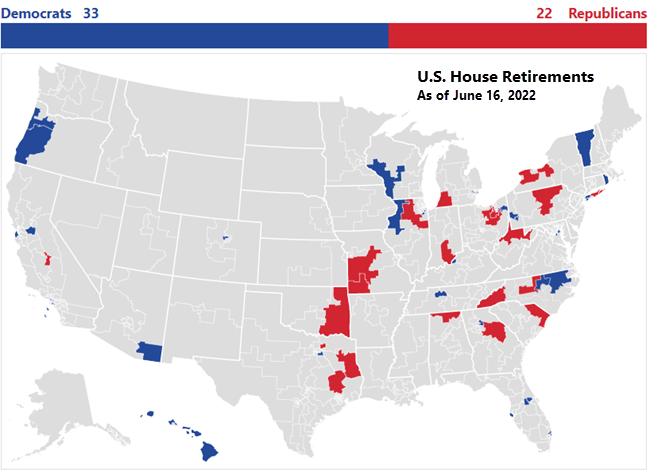 Redistricting
---
Locate and view your new congressional district. Result includes a side by side map comparison of how the district shape will change. Not yet available for Louisiana, Missouri, New Hampshire, or New York, although we should have the data for all but Louisiana within the next few days.
---
Louisiana is the only state without an active map. Earlier this month, a federal court invalidated the previously-enacted map, saying it was in violation of Section 2 of The Voting Rights Act. A short stay was lifted. The ruling ordered the Legislature to draft a new map by June 20. Leaders there have asked for an extension of the deadline.
comments powered by

Disqus
Headlines