January 19, 2021
Punchbowl News reports in its Tuesday morning newsletter that "Democrats Alex Padilla (Calif.), Jon Ossoff (Ga.) and Raphael Warnock (Ga.) will be sworn in as new senators on Wednesday afternoon, according to a Senate source. This will come shortly after Biden and Kamala Harris take their own oaths of office. As VP, Harris is expected to swear in the majority making trio."
For those not familiar, Punchbowl News is a new political news start-up founded by three veterans of Politico. We're finding their free morning edition an invaluable start to the day. You can sign up here.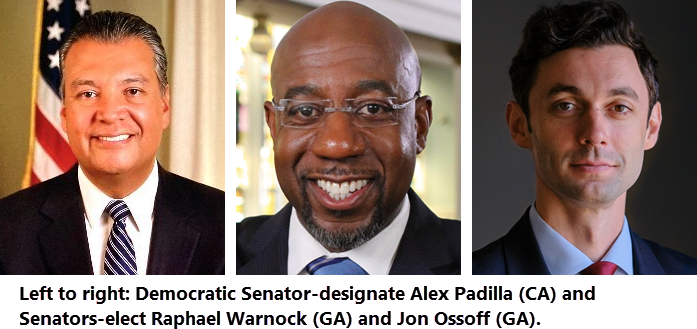 With these additions, the Senate will be split 50-50 shortly after the start of the Biden administration. That will make vice president Kamala Harris the president of the Senate, able to cast tiebreaking votes. As a result, Democrats will nominally take control of the chamber, with Chuck Schumer expected to become majority leader. However, as the Senate is evenly divided, committees are expected to have the same number of members from each party. To address those types of issues, Schumer and current majority leader Mitch McConnell are currently discussing an arrangement similar to one that was used the last time there was a 50-50 Senate in 2001.
Padilla was appointed by California Gov. Gavin Newsom to replace Harris, who resigned Monday. He will complete the final two years of her term; the seat will be contested again in the 2022 Senate Election.
Ossoff and Warnock won election runoffs in Georgia earlier this month, defeating incumbent Republicans David Perdue and Kelly Loeffler. Warnock will serve the final two years of the term of Johnny Isakson, who resigned at the end of 2019. Loeffler had been appointed by Gov. Brian Kemp to fill the seat through the special election.
comments powered by

Disqus
Headlines