December 2, 2020
Arizona Democrat Mark Kelly was sworn in as a U.S. Senator Wednesday. Kelly had defeated Republican Martha McSally in the November 3 elections. Since this was a special election - to complete the term of the late John McCain - Kelly became eligible to be seated once the state certified its election results. It did so on Monday.
The seat will be up again in 2022 for a regular six-year term.
The transition reduces the GOP majority to 52-48 for the remainder of this Congress. It will also be the count for the first couple days of the 117th Congress. The two other seats that flipped in November, Alabama D->R and Colorado R->D will offset. All eyes will of course be on the two runoff elections in Georgia on January 5. Republicans need to win one of those to maintain control of the Senate.
The image below shows the current partisan composition of the Senate by state, followed by what the chamber will look like on January 3 based on this year's elections. The green coloring represents the two independents, both of whom caucus with the Democrats.
All three of the seats that flipped parties moved that state to a single party Senate delegation. As of January 3, treating the independents as Democrats, only five states will have a split delegation: Montana, Ohio, Pennsylvania, West Virginia and Wisconsin. This will be the smallest number of split delegations since direct election of Senators began in 1913.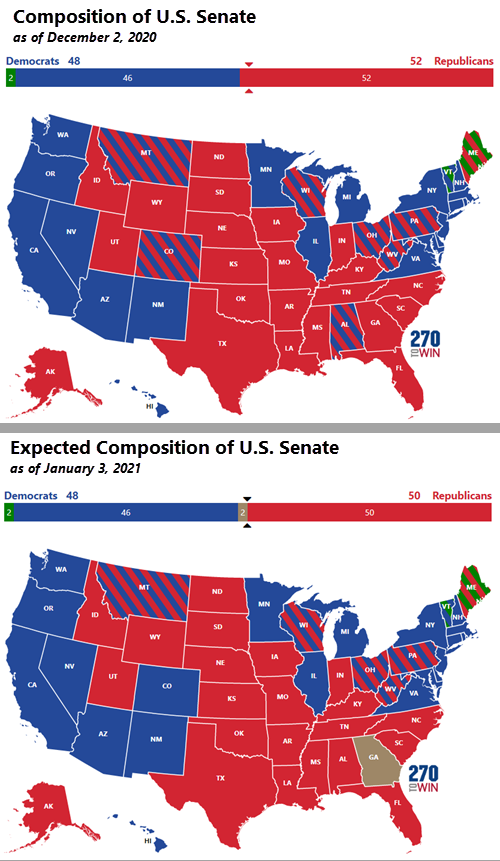 comments powered by

Disqus
Headlines