117th Congress: Partisan Composition of the U.S. House by State
By 270toWin Staff
November 12, 2020
With one exception, we now know which party will be in the majority in each state's 2021 U.S. House delegation. Aside from Iowa's 2nd district, none of the 14 races that remain uncalled will change this calculation.
Currently, Republicans hold a 26-23 edge, with one tie in Pennsylvania. Democrats are going to lose three narrow majorities, as Michigan and Minnesota move to an evenly split delegation. In Michigan, Republican Peter Meijer won in District 3, reclaiming the seat held by Libertarian Justin Amash who left the party in 2019. In Minnesota, 15 term Democrat Collin Peterson was defeated in the strongly pro-Trump District 7.
Iowa will also move to a tie if Democratic nominee Rita Hart wins in District 2. If Republican Mariannette Miller-Meeks wins, the GOP will have a 3-1 edge there. This race is exceptionally close; Miller-Meeks leads by 47 votes out of nearly 400,000 counted thus far.
Therefore, Republicans will have 26 or 27 majorities, Democrats 20 and there will be 3 or 4 ties.
In the map below, Iowa is shown in lighter red, reflecting the 2-1 GOP edge in called races. If you click the image, Iowa will display in purple (tie) on the map because District 2 was consensus-rated Leans Democratic heading into the election. You can use the toggle to the right of the map to adjust that.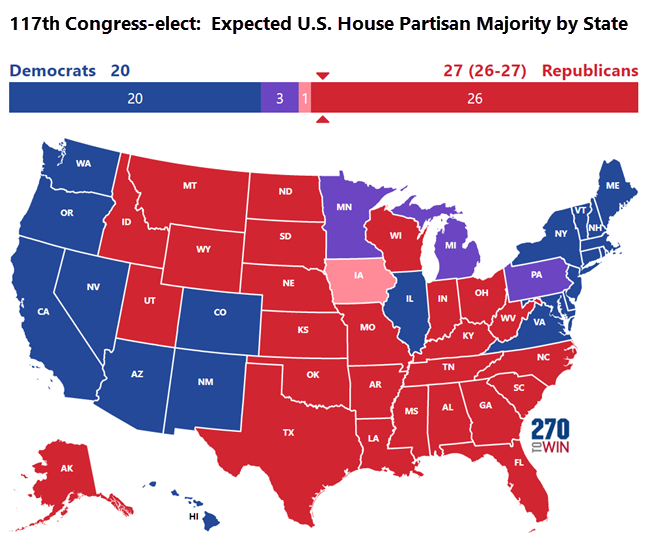 This info is nice to know, but becomes relevant in the case of a presidential election where no candidate receives 270 electoral votes. In that case, the newly-elected House would select the president, with each state receiving one vote, regardless of the size of its delegation.
Looking ahead, the 2020 Census reapportionment will change the number of congressional districts some states have after the 2022 election. If this late 2019 projection holds, Michigan, Minnesota and Pennsylvania will all lose a district, giving all these currently tied states an odd number of districts. Two states with a small Democratic majority, Arizona and Colorado, are expected to add one each. Montana, with a single at-large district, is expected to gain one. No impact on the partisan majority is likely in the other states expected to gain/lose seats.
comments powered by

Disqus
Headlines