Making the Call: Why Media Outlets are Showing Different Electoral Vote Totals
By 270toWin Staff
November 7, 2020
Depending on where you look, Joe Biden is projected to have won 253 or 264 or 273 electoral votes. Why the discrepancy? There are several independent organizations making race calls. Each has a 'decision desk', where experts (statisticians, political scientists) analyze incoming election results, and mathematically model what's yet to be counted. When they are highly certain that the final numbers for a race will favor one candidate, they will make a call. For example, NBC and ABC use a 99.5% level of certainty before making a projection.
As each of these decision desks works independently, and are sequestered from outside influences, races will be called at different times, although absent the rare situation where a call has to be retracted, they will all eventually get to the same place.
Here's how things stand as of Saturday morning, courtesy of this excellent interactive from The New York Times. In the graphic below, we are showing the states/districts that remain uncalled by one or more outlets.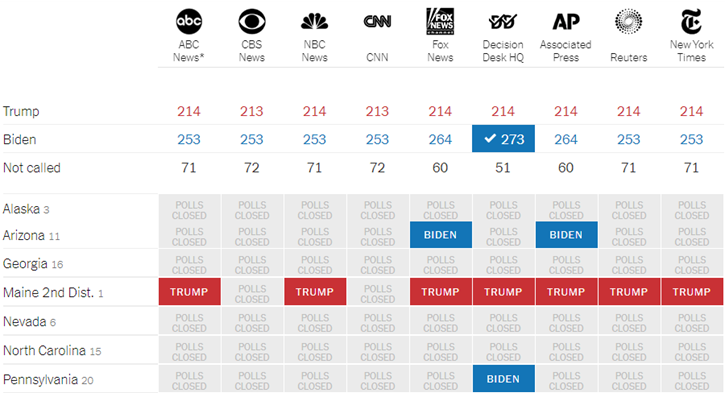 Here's a bit more on some of the players involved here.
Decision Desk
270toWin contracts with Decision Desk HQ (DDHQ) to provide real-time vote counts and projections on its site. Founded in 2012, the firm became more well known when it was the first service to call the 2014 Virginia GOP primary where Dave Brat ousted House Majority Leader Eric Cantor. This article discusses how DDHQ goes about its business. As of this writing, it is the only service to have called Pennsylvania for Joe Biden. That put Biden over the 270 electoral votes needed to win the presidency.
National Election Pool
This is a consortium of most of the major news networks (ABC, CBS, CNN, NBC) that pools resources to gather vote and exit poll data. The consortium contracts with Edison Consumer Research to collect this information. While the pool adds efficiency to the data gathering process, each of these networks has its own independent decision desk. As of this writing, two of them have called Maine's 2nd district for Trump, while two have not.
Associated Press
The AP has been calling presidential elections since 1848. Here's a bit more on their process. It left the National Election Pool after 2016, and introduced AP VoteCast in 2018. AP VoteCast is a replacement for traditional exit polls, which the AP believes are not as effective in a world where less of the electorate votes in-person on Election Day itself. AP VoteCast is used by several organizations in addition to the AP, including Fox News. AP and Fox (which has its own decision desk) called Arizona for Joe Biden late on election night, while it remains uncalled elsewhere. Most newspaper clients of the AP automatically use the service's race calls, but some, like the New York Times, will make their own evaluation in important races.
comments powered by

Disqus
Headlines