March 14, 2020
Tuesday, March 17 is the third largest date - in terms of available delegates - on the Democratic primary calendar in 2020. Voters in Florida, Illinois, Ohio and Arizona will cast their ballots. A total of 577 delegates is available. This trails only Super Tuesday and April 28. The latter date is the so-called 'Acela Primary' across six East Coast states.
Here are the latest polling averages in each of those states, as of Saturday, March 14. Note that we have only averaged polls released after Super Tuesday, March 3. We've also plugged these averages into our Delegate Calculator (create your forecast here) to get a sense of how the delegate split might look.
At this point, Joe Biden leads in each of the four states, with that lead largest in Florida, the most delegate-rich opportunity on Tuesday. It is quite possible that the former Vice President will more than double his current delegate lead over Bernie Sanders.
As a reminder, Biden and Sanders will debate Sunday night. It will be broadcast on CNN and Univision from 8:00 - 10:00 PM ET. The debate was moved from Phoenix to Washington, D.C. due to the coronavirus. There will be no live audience.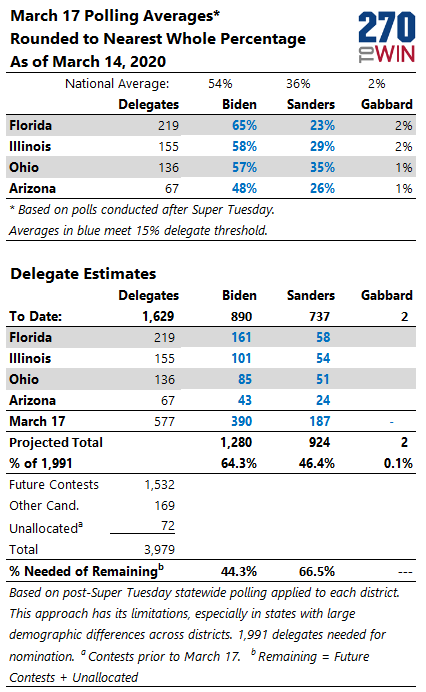 comments powered by

Disqus
Headlines