Sanders Narrowly Wins New Hampshire over Buttigieg; Klobuchar a Strong Third
By 270toWin Staff
February 12, 2020
Sen. Bernie Sanders has won the New Hampshire Democratic primary, narrowly beating out Pete Buttigieg. Sen. Amy Klobuchar came in a strong third. The three split the state's 24 delegates.
As of Wednesday morning, with 91% of precincts reporting, Sanders held a 1.6% lead over Buttigieg, with each getting about 25% of the statewide vote. Klobuchar, at about 20%, easily outperformed her polling numbers. Sen. Elizabeth Warren and Joe Biden finished well back, each seeing under 10% support.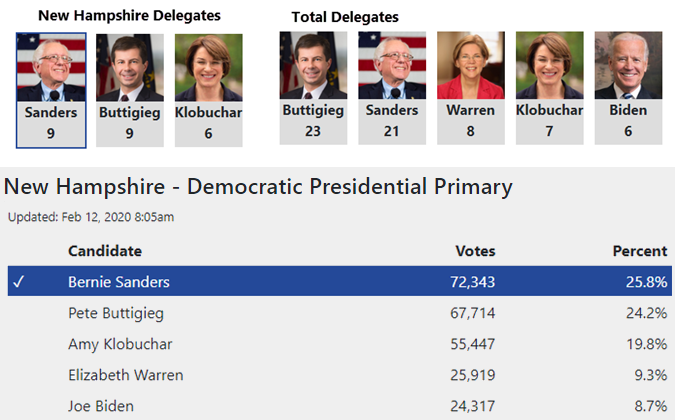 Dan Balz of the Washington post has an excellent article on the state of the Democratic race after Iowa and New Hampshire. Balz writes: "Democrats braced themselves Tuesday night for a long and divisive contest for their party's presidential nomination after New Hampshire voters added new uncertainty to a race already scrambled by last week's caucuses in Iowa." He goes on to say that "if Sanders is the candidate of the liberal wing, those who are more moderate are still divided in their choice. The existence of that competition, and questions about each of the candidates seeking to become the alternative to Sanders, heightened the discontent about where this race might be heading."
While a dominant candidate hasn't emerged from the first two contests, they have served to finally begin winnowing the large field. Both Andrew Yang and Sen. Michael Bennet announced an end to their respective campaigns Tuesday, with Deval Patrick expected to do the same today.
comments powered by

Disqus
Headlines