12 Qualify for October Debate; Most Crowded Presidential Stage Ever
By 270toWin Staff
October 2, 2019
The Democratic National Committee announced that 12 candidates have qualified for the next debate, scheduled for October 15 in Ohio. All 12 will take part in a single night, making it the most crowded presidential debate stage in history. The debate will be moderated by CNN and The New York Times.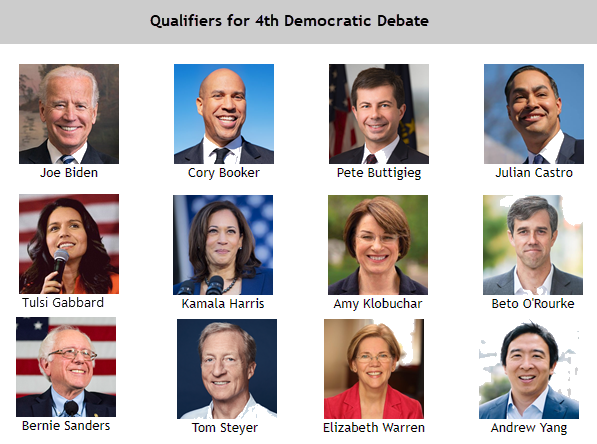 Since the September debate, Tulsi Gabbard and Tom Steyer have met the minimum requirements of 2% in four qualifying polls and 130,000 unique donors.
The fifth Democratic debate will take place in November, date and location TBA. As previously noted, the DNC is raising the bar to winnow the field. The 2% polling threshold will go to 3%, while the unique donor requirement goes to 165,000. There is also a new, alternative polling qualifier: 5% or more in two polls from among the four early states. Five candidates have qualified to this point: Joe Biden, Bernie Sanders, Elizabeth Warren, Pete Buttigieg and Kamala Harris.
comments powered by

Disqus
Headlines