New York Times, CNN to Co-Host October Democratic Debate
By 270toWin Staff
September 13, 2019
The New York Times and CNN will co-host the 4th Democratic debate, the Democratic National Committee (DNC) announced Friday. It will take place October 15 - possibly continuing on the 16th - at Otterbein University in Westerville, Ohio. CNN anchors Anderson Cooper and Erin Burnett will moderate; they will be joined by the national editor of the Times, Marc Lacey.
Eleven candidates have so far met the required criteria of 2% support in four polls and 130,000 unique donors. This includes the ten candidates on the stage for this week's debate as well as investor Tom Steyer, who recently qualified. Other candidates have until October 1 to qualify. Rep. Tulsi Gabbard and author Marianne Williamson are closest. Both have met the donor threshold but are short on qualifying polls: Gabbard needs two more, Williamson three.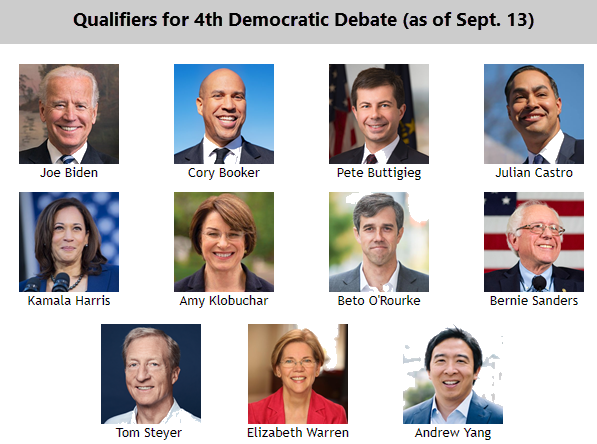 The first two debates, with 20 candidates, took place across two nights. The more restrictive qualifying criteria used for this week's event reduced the field to ten. The same criteria are in place for the October 15 debate. With a field likely to be just slightly larger than 10, the DNC will need to determine whether to have a crowded one-night event, or split it over two nights. The latter would afford each candidate significantly more air time, but those leading in the polls may not be on stage at the same time.
comments powered by

Disqus
Headlines