Biden, Sanders Well Ahead of Field in Iowa Caucus Poll
By 270toWin Staff
March 10, 2019
A new poll of likely Iowa caucusgoers finds Joe Biden and Bernie Sanders well ahead in a large Democratic field. The former vice-president receives 27% support, essentially tied with the 25% garnered by the Vermont Senator. While eleven others had measurable support, none received more than 10%.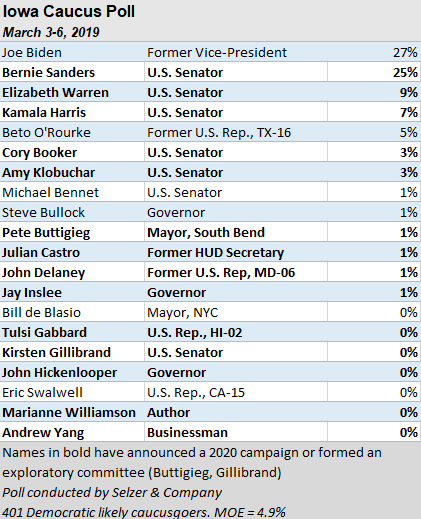 It is not surprising to see Biden and Sanders as frontrunners. This far out - the caucus is February 3, 2020 - name recognition goes a long way in a poll. That these two are running neck-and-neck is also interesting, as the two represent different wings of the Democratic party that will eventually need to settle on a single nominee that can effectively take on President Trump. Sanders, who challenged eventual nominee Hillary Clinton from the left in 2016, has seen the party move in his direction during the Trump administration. Biden is seen as more centrist - 70% of poll respondents said his political views are "about right", not too conservative or liberal.
Biden has still not announced if he will pursue the presidency in 2020. We should know his decision in the next few weeks. The race takes on a whole new dynamic if he passes, as it is unclear if a single candidate would pick up the bulk of that centrist support, or if it would fragment among others, including former Rep. Beto O'Rourke (if he runs) and Minnesota Sen. Amy Klobuchar.
comments powered by

Disqus
Headlines