Dates Set for Two North Carolina Congressional Special Elections
By 270toWin Staff
March 4, 2019
9th District: The North Carolina Board of Elections has set September 10th as the date for a special election to fill the vacancy in the state's 9th congressional district. The seat has been vacant since the beginning of the 116th Congress in January. An apparent narrow GOP win in the midterm elections was not certified due to election fraud.
There will not be a rematch of the November race. While Democrat Dan McCready will seek his party's nomination to try again, Republican Mark Harris will not run. The primaries will be held on May 14th. If a second primary is required*, it will take place on September 10th, with the general election pushed to November 5th.
3rd District: This district became open in February, when Rep. Walter Jones (R) passed away. Gov. Roy Cooper has set July 9th as the special election date. A primary will be held on April 30th. If a second primary is required, it will take place on July 9th, and the general election will take place on September 10th.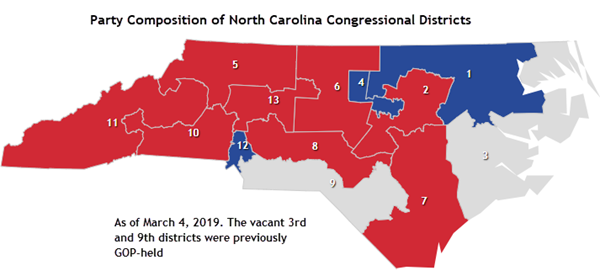 There is a third congressional vacancy, in Pennsylvania's 12th district. Rep. Tom Marino (R) resigned in January. A special election will be held May 21st.
In terms of competitiveness, NC-3 and PA-12 are very likely to stay under GOP control. NC-9 is a toss-up.
* Per North Carolina law, a second primary (runoff) is held when no candidate receives 30% of the vote in the regular primary.
comments powered by

Disqus
Headlines