January 16, 2019
The 2019-20 Governor Interactive Map is now available. Three starter maps are currently available, including the early projections from Sabato's Crystal Ball and The Cook Political Report. The final option is a blank map with all seats undecided. The table below the map has been expanded to include 2019 through 2022, with each displaying those states with an election that year.
Kentucky, Louisiana and Mississippi will each elect a governor in 2019. About 10 months out, all three races look to be at least somewhat competitive*. 11 more states will follow in 2020. The 2020 races include New Hampshire and Vermont, the only two states where governors serve a two-year term. At least three of the 14 governors will be leaving. Phil Bryant (R-MS) and Steve Bullock (D-MT) cannot run due to term limits. In Utah, the country's longest-serving governor, Gary Herbert (R) is retiring.
The image below are the initial ratings from Sabato's Crystal Ball. You can read their analysis of the races here.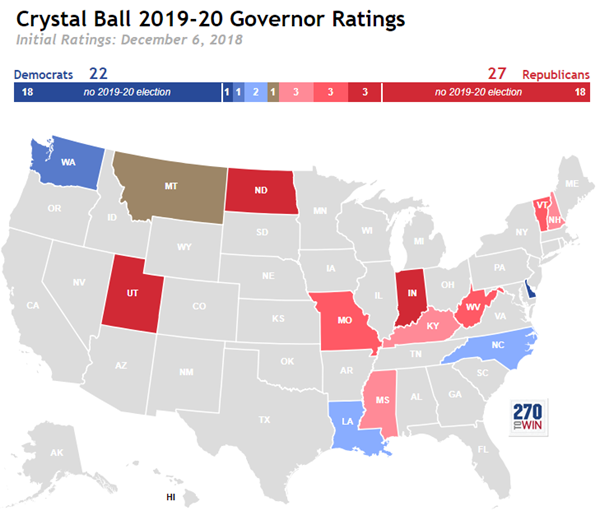 * These are safe GOP states in a presidential election. The competitiveness of these gubernatorial races is aided to some degree by the fact that they are occurring this year as opposed to next.
comments powered by

Disqus
Headlines