New Poll: Cramer Leads Heitkamp by 16 Points in North Dakota
By 270toWin Staff
October 22, 2018
A new poll conducted by Strategic Research Associates gives Republican Rep. Kevin Cramer a 16 point lead over incumbent Democratic Sen. Heidi Heitkamp. The same firm's prior poll, just three weeks ago, had the margin at 10 points.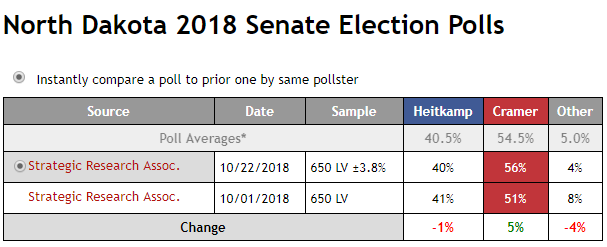 52% of those polled had an unfavorable view of Heitkamp, a large increase from 41% who felt that way three weeks ago. According to the pollster: ""Senator Heitkamp appears to have been hurt by her vote against Brett Kavanaugh's confirmation to the U.S. Supreme Court as well as by subsequent campaign missteps widely covered in the media."
Impact on Senate Control
Heitkamp's fading prospects for a 2nd term will make it that much more difficult for Democrats to retake control of the Senate. If she loses, her party must win 3 GOP-held seats from a list that includes Nevada, Arizona, Texas, Tennessee and Mississippi (special election). That's assuming they win their other 25 seats up this year - which will be no easy task.
comments powered by

Disqus
Headlines