Uncontested: 42 House Races with no Major Party Opposition
By 270toWin Staff
October 9, 2018
While over 300 of the 435 House seats are generally considered 'safe' for the incumbent party, there is a subset that is especially solid -- those with no major party opposition. This year, 42 seats fall into that category. That's a much smaller total number than the past two cycles, with the vast majority of the difference coming on the Democratic side. Reflecting the current climate, there are only 3 seats where that party doesn't have a candidate on the November ballot.
We've divided these into a few different groups. However, it doesn't change the bottom line that these 42 seats are all but certain to remain with the current party.
Totally Unopposed: There are 16 incumbents that have the ballot all to themselves. One of them, Michael Doyle (PA-18) is running unopposed in a district partially modified in redistricting. A 17th seat on this list is currently held Michael Capuano (MA-7), who was defeated by Ayanna Pressley in his bid for renomination.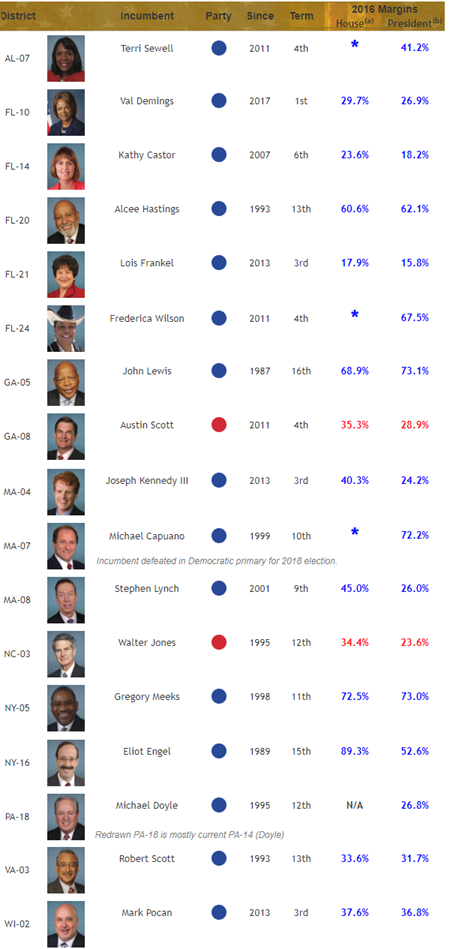 Same Party Opposition: California and Washington hold top-two primaries, where all candidates, regardless of party, appear on a single ballot. The two largest vote-getters advance to the general election. In five districts, the two moving on are both from the same party. In 2016, Nanette Barragan won her first term vs. a fellow Democrat; this explains the narrow margin of victory in a district Hillary Clinton won by nearly 71%.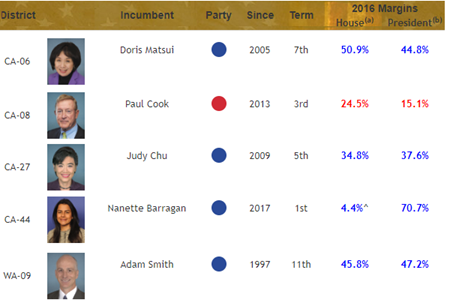 3rd Party Opposition: These 20 incumbents have one or more opponents on the ballot - all are 3rd party or independent candidates. None are expected to pose a major challenge.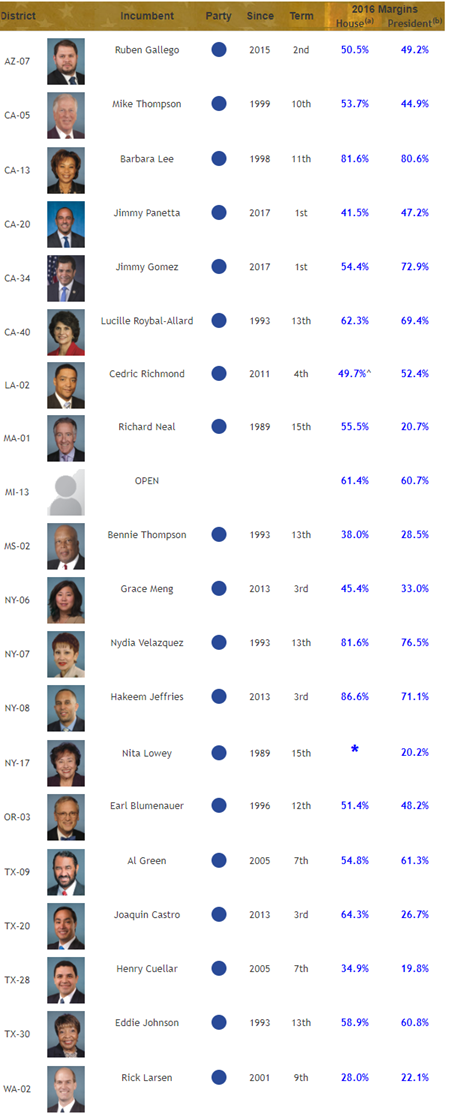 In the above tables, the 2016 margin of victory for both the House race and the presidential election (within that congressional district) is displayed. As you might expect, given the lack of competition, these districts lean heavily toward one party. An asterisk indicates the incumbent was unopposed.
comments powered by

Disqus
Headlines