Midterm Battleground Minnesota Kicks off Early Voting for the 2018 Election
By 270toWin Staff
September 21, 2018
Although still about 45 days away, early voting for the 2018 midterm elections began Friday in Minnesota and three other states. New Jersey follows tomorrow, with Illinois next Thursday. Several more states will follow in early October, with over 30 states offering some form of early voting by late in the month. Note that requirements vary by state; some require a valid excuse to avoid voting on Election Day. Also, in some states the early voting period varies by location.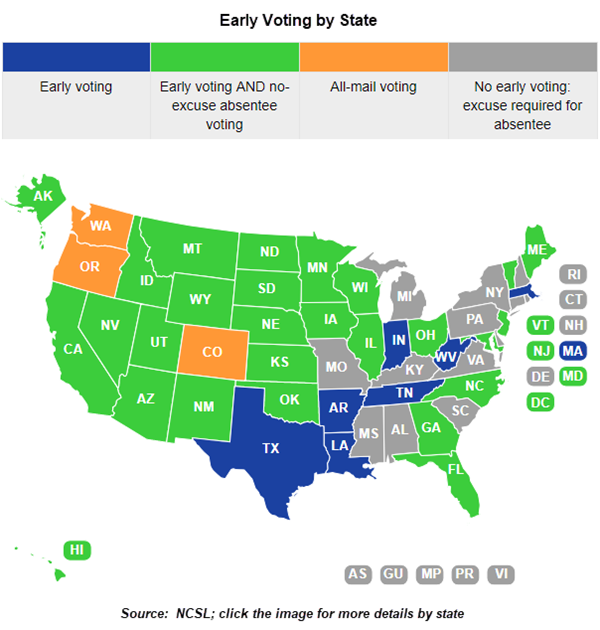 Minnesota is notable due to the number of competitive races it has this year. Democratic Gov. Mark Dayton is not seeking a 3rd term. While the races leans Democratic, it is no sure thing. Likewise, in Minnesota's special election for U.S. Senate, incumbent Democratic Sen. Tina Smith is favored, but polling for this race has been much closer than for the 'regular' Senate election held by fellow Democrat Amy Klobuchar.
The congressional races are particularly interesting. Three of the state's 8 districts (MN-1, MN-2 and MN-8) are currently considered toss-ups, with the GOP-held 3rd hovering between toss-up and leans Democratic. MN-7 is considered likely to vote with 14-term incumbent Democrat Collin Peterson, but Donald Trump won here by 31% in 2016, his largest margin of victory in any district that elected a Democrat to Congress.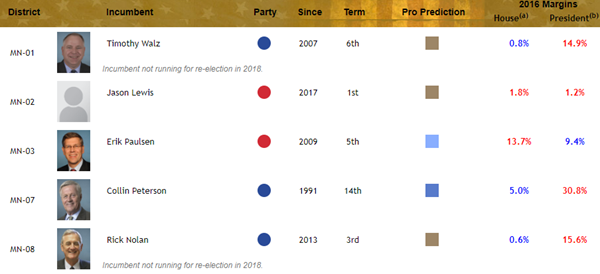 Minnesota's early voting continues through the day before the midterms. We're a bit conflicted by this. Early voting is a great way to get a higher percentage of registered voters to cast a ballot. That said, people voting well in advance of Election Day do so without complete information. This shrinks the pool of voters left to be persuaded to consider another candidate and/or react to developments in the campaign.
comments powered by

Disqus
Headlines