Primary Recap: Establishment Candidates Defeated in Florida's Gubernatorial Race
By 270toWin Staff
August 29, 2018
Choose a state below for all primary results
Florida
A New York Times headline sums it up nicely: "A Black Progressive and a Trump Acolyte Win Florida Governor Primaries". Voters in both parties bypassed the establishment candidate. Democrats selected Tallahassee Mayor Andrew Gillum, who upset former Rep. Gwen Graham. Republicans followed the endorsement of President Trump, choosing Rep. Ron DeSantis. The general election here thus takes on echoes of neighboring Georgia, both gubernatorial races "between left-leaning African-Americans banking on the region's new, diversifying electorate, and ardent, Trump-style nationalists."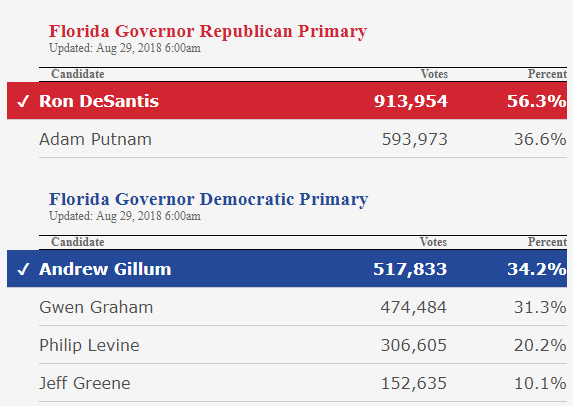 As expected, Gov. Rick Scott easily won the GOP nomination for Senate, setting up what will likely become one of the most expensive Senate races in U.S. history.
Arizona
Rep. Martha McSally defeated hardliners Kelli Ward and Joe Arpaio in a race where Trump made no endorsement. Likely a pragmatic choice by the president, as neither Ward or Arpaio were seen as particularly good general election candidates. McSally will meet her congressional colleague, Rep. Kyrsten Sinema in what will be a closely-contested general election.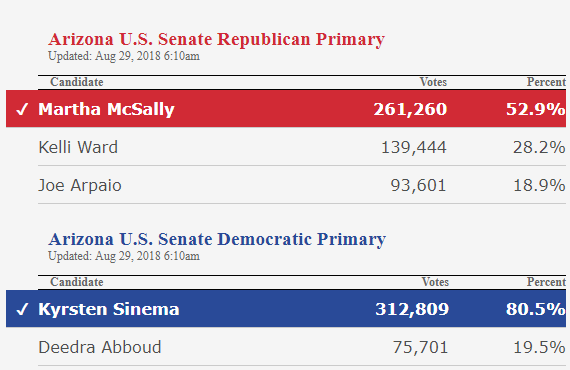 Gov. Doug Ducey easily won renomination; he'll face David Garcia in November. Former Rep. Ann Kirkpatrick won the Democratic nomination in Arizona's 2nd congressional district. This is the seat being vacated by McSally, and represents one of the best opportunities for a Democratic gain in November.
Oklahoma (Runoffs)
Businessman Kevin Stitt won the GOP gubernatorial runoff; he'll meet Democrat Drew Edmondson in November. While Oklahoma is a deep red state, a Democratic flip is not out of the question here in November. Outgoing GOP Gov. Mary Fallin is one of the most unpopular in the country, Edmondson is a strong candidate and polling thus far has him doing better against Stitt than the now-defeated Cornett.
comments powered by

Disqus
Headlines