Primary Tuesday: Arkansas, Georgia and Kentucky; Runoffs in Texas
By 270toWin Staff
May 21, 2018
Tuesday sees voters going to the polls for primaries in Arkansas, Georgia and Kentucky. Runoff elections will also be held in Texas, for those races where no candidate reached 50% in the March 6th primary.
There are no U.S. Senate races in any of the three primary states. Arkansas and Georgia have gubernatorial contests, which are among the 36 such races in 2018. In Arkansas, incumbent governor Asa Hutchinson is expected to move on and seems pretty safe for re-election in November.
In Georgia, incumbent Republican governor Nathan Deal is not on the ballot due to term limits. Although there are frontrunners in both parties, the gubernatorial primary in Georgia looks more interesting both for the personalities on the ballot and because there is some possibility this race could be competitive in November. The Democrats will nominate a woman today, either Stacey Abrams or Stacey Evans. This would make a Democratic victory here in November historic: No woman has ever been elected governor of Georgia. If Abrams were to prevail today and in the fall, she would become the first female African-American governor in American history.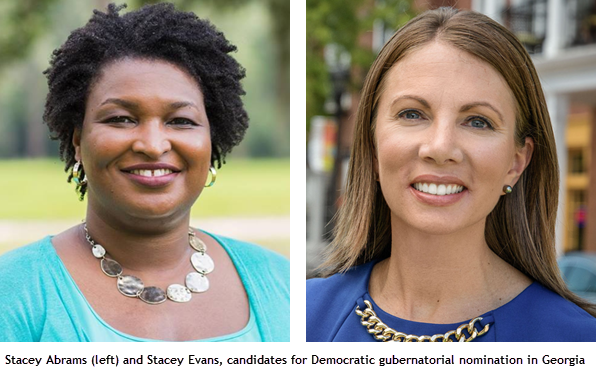 Both Arkansas and Georgia have runoff elections where no candidate gets a majority of the vote. Among other places, that is likely in the Georgia Republican gubernatorial race, where the frontrunner, Lt. Gov. Casey Cagle, has four opponents. If runoffs are needed, they will take place on June 19 in Arkansas and July 24 in Georgia.
Poll closing times are as follows:
Kentucky: 6:00 PM local; which is 6:00 PM Eastern for those in that time zone, 7:00 Eastern for those on Central time.
Georgia: 7:00 PM Eastern
Arkansas: 8:30 Eastern (7:30 Central)
In Texas, polls close at 7:00 PM local; which is 8:00 PM Eastern for those on Central time, 9:00 PM Eastern for those on Mountain time.
Upcoming Primary Calendar
After a break for Memorial Day next week, the schedule picks back up again in June. Here's the full calendar.
June 5: Alabama, California, Iowa, Mississippi, Montana, New Jersey, New Mexico, South Dakota
June 12: Maine, Nevada, North Dakota, South Carolina, Virginia
June 26: Colorado, Maryland, New York, Utah
comments powered by

Disqus
Headlines