April 26, 2018
On the heels of Tuesday's narrow Republican win in Arizona's 8th district, we have an updated outlook and some ratings changes from the forecasters at Sabato's Crystal Ball. Ratings changes were made to 15 districts, including 10 new races that moved from safe to likely Republican.
In their own words:
"Overall, our House outlook remains the same: Democrats are about 50-50 to win the House. What these ratings change do is make clear that in the event of a big wave, there are some districts that might not seem competitive on paper that could flip, particularly because a deep bench of Democratic candidates is in place to capitalize on a potentially great environment in the fall. That's where one could see Democrats picking up substantially more than the 23 net seats they need to win House control. However, the Democratic wave could fail to materialize, and Democratic gains could be limited to the teens. At this juncture, the range of possibilities in the House is wide. We realize that may be an unsatisfying and overly cautious assessment, but that's where we're at right now with the election still half a year away."
As most of the shifts were from safe to likely Republican, the overall forecast changes little, although the map isn't quite as dark red as it was. Republicans are favored in 211 seats, Democrats 198, with 26 toss-ups.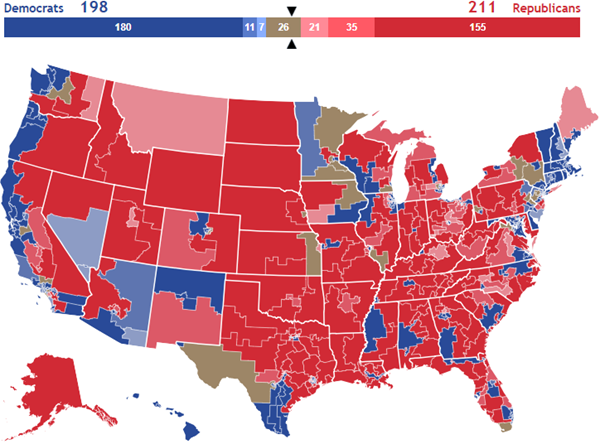 Click the image for an interactive version. Note that we've added a 'Map Options' link, near the share buttons, below Florida. For those that don't want to rotate through as many colors when creating a forecast, you can choose a smaller palette there.
The latest ratings changes are in the table below. They include some high profile names. Read the full analysis for more background on these individuals and the rationale for the current rating.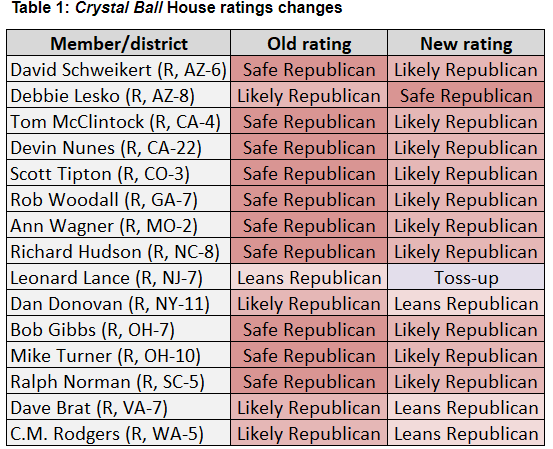 comments powered by

Disqus
Headlines