April 24, 2018
Voters in Arizona's 8th congressional district will go to the polls today to elect a new congressional representative. The polls are open until 7:00 PM Mountain Time (10:00 PM Eastern Time; Arizona doesn't participate in Daylight Savings Time). The 8th district is entirely within Maricopa County*, and includes portions of the Phoenix metropolitan area.
The election pits Republican Debbie Lesko, a former state Senator, against Democrat Hiral Tipirneni, a physician.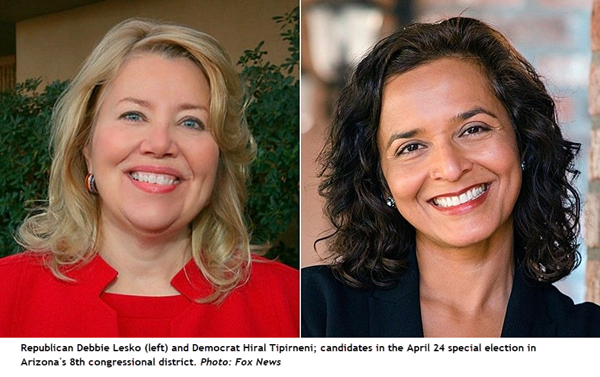 FiveThirtyEight has a good overview of the election, including why a repeat of last month's Democratic win in the PA-18 special election is unlikely despite the fact that Donald Trump won both districts by about 20% in 2016.
Much of the voting for today's election was cast during early voting. For those that are interested, the state provides a nice level of detail on the composition of those that voted during this period. While it doesn't tell us how people voted, about 75% of the returned ballots were from those over 55; the median age of all early voters is 67. Just under half the early voters are registered Republicans, compared to about 28% Democrats and 23% independents.
According to the Arizona Secretary of State, the early vote counts will be released at 8:00 PM (11:00 PM ET), after which there will be a lull for an hour or more before counts from today's vote begin to be posted.
* Although Maricopa County encompasses just 8% of the state's geographic area, portions of it are included in all but one of the state's eight congressional districts.
comments powered by

Disqus
Headlines