Democrat Conor Lamb Apparent Winner in Pennsylvania Congressional Race
By 270toWin Staff
March 14, 2018
Democrat Conor Lamb is the apparent winner of the special election in Pennsylvania's 18th congressional district, according to a projection from NBC News. Out of over 228,000 votes counted, Lamb leads by just 641 votes over Republican Rick Saccone. All that remains to be counted are some absentee ballots. While this could change the margin slightly, it is not believed that there are enough of these to make a difference.

Lamb declared victory early Wednesday. Saccone has not yet conceded. The Associated Press has not yet made a call on the race due to the possibility of a recount.
Although the party has come close in some deep red districts, a Lamb victory will make him the first Democrat to flip a Republican House seat in a special election during the Trump era. Republicans will have 238 seats, Democrats 194, with 3 vacancies. (Democrats did gain a Senate seat in the recent Alabama special election.)
The next special election is scheduled for April 24th in Arizona's 8th congressional district. The seat was vacated by Republican Trent Franks late last year. That race features Republican Arizona State Senator Debbie Lesko against Democrat Hiral Tipirneni, a physician. If anything, this suburban Phoenix district is a bit redder than the one contested in Pennsylvania Tuesday -- Donald Trump won here by 21% in 2016. No polling of the general election is available yet; Republicans are favored to hold the seat based on a review of forecasts by various pundits.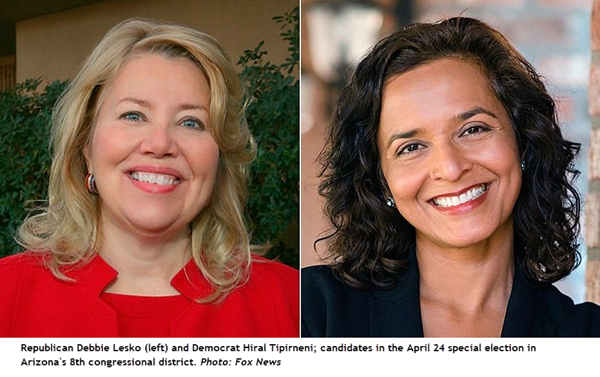 comments powered by

Disqus
Headlines