January 9, 2018
The 4th U.S. Circuit Court of Appeals ruled that North Carolina's congressional districts must be redrawn in advance of this year's U.S. House elections. The court ruled that "Republican state legislators, seeking to address a racial gerrymander the court struck down in a previous map, put too much partisan intent into their redraw, drawing the lines to guarantee Republican victories in U.S. House races despite North Carolina's more purple political hue."
The court ordered the General Assembly to redraw districts by January 24th, indicating that it would issue its own map if the revision was unacceptable.
The case is likely to be appealed to the U.S. Supreme Court.
North Carolina's current congressional districts can be seen on the map below, which is a partial preview of a state page from our soon to be launched updated House map. Each state will have its own map, and there will be a national map that can be zoomed and panned to view any desired region of the country. All the maps will be interactive and will work in conjunction with each other.
Included on the state pages will be information on the incumbent and a race rating for 2018. Additionally, they will show each district's margins from 2016, both from the race for Congress and the presidential election. The results in North Carolina highlight how effective the state legislature's gerrymander was --- none of the 13 districts was decided by less than 12%.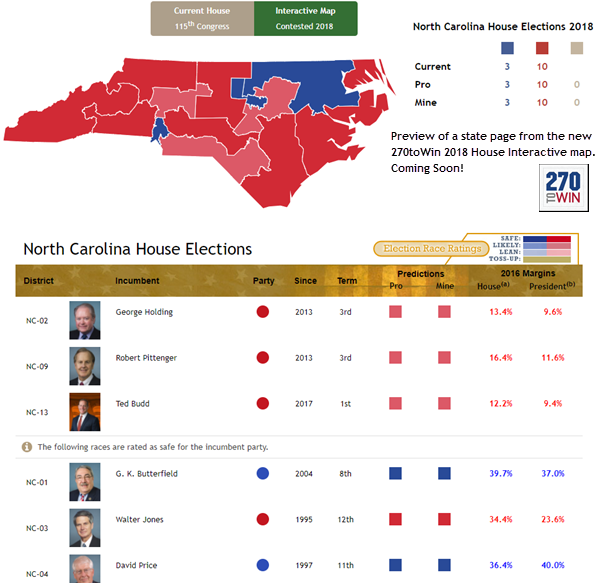 comments powered by

Disqus
Headlines