After Alabama: Updating the 2018 Senate Outlook
By 270toWin Staff
December 14, 2017
The 2018 Senate Interactive Map has been updated to reflect the 34 seats to be contested on November 6, 2018. This includes a special election in Minnesota, where Gov. Mark Dayton has appointed Lt. Gov. Tina Smith to take over when Sen. Al Franken departs. The recently completed Alabama special election has been removed. (These two special election seats will again be contested in 2020, while the 33 remaining 2018 elections are for six-year terms through 2024).
Once Alabama Democrat Doug Jones is seated, the Senate will consist of 51 Republicans, 49 Democrats*. That means Democrats will need to gain two seats in 2018 to take control in 2019, as Vice-President Pence will break any ties in a 50-50 Senate in favor of the Republicans. The win in Alabama gives them an opening to accomplish that, but it is still an uphill climb due to the particular seats up in this cycle.
The following maps are all interactive, and all are based on the Senate after Mr. Jones is sworn-in. Click on any of them to create and share your own 2018 Senate forecast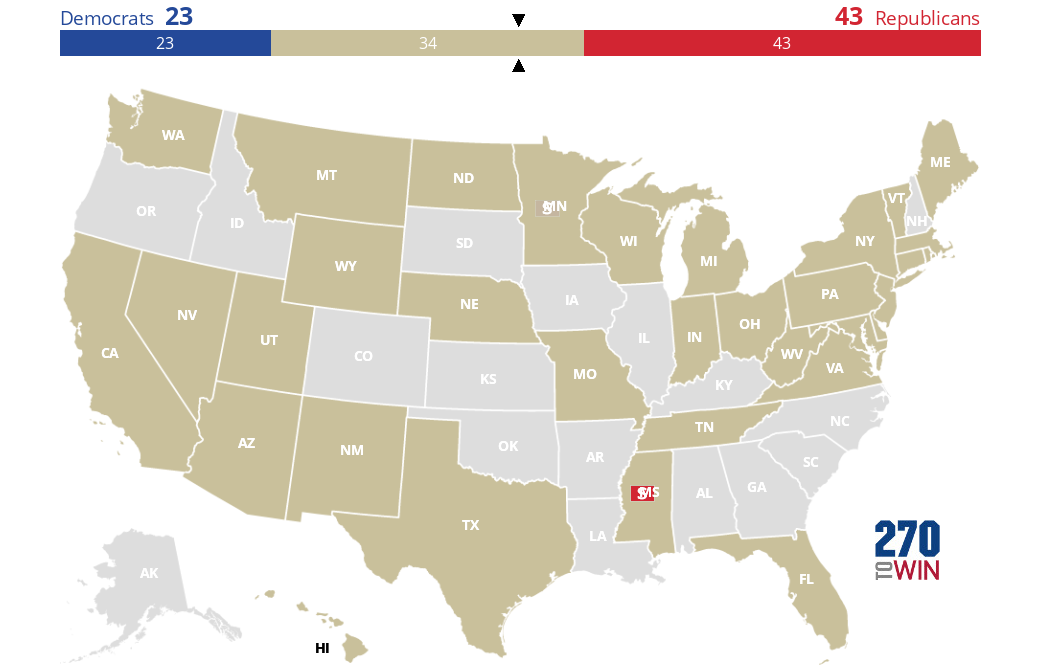 Blank Map: The 34 Senate seats to be contested in 2018. Only 8 of 51 Republican seats are up this cycle, the remaining 43 split between 2020 and 2022.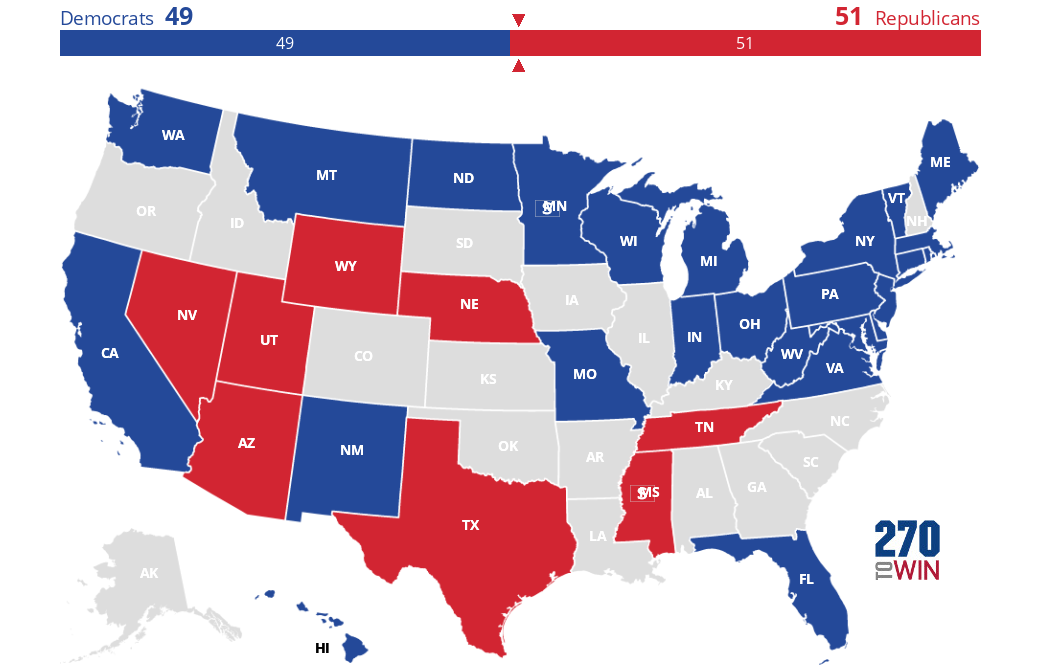 Current Party: The 34 seats are filled in with the incumbent party. The Senate would remain 51-49 Republican if no seats flipped in the 2018 midterms.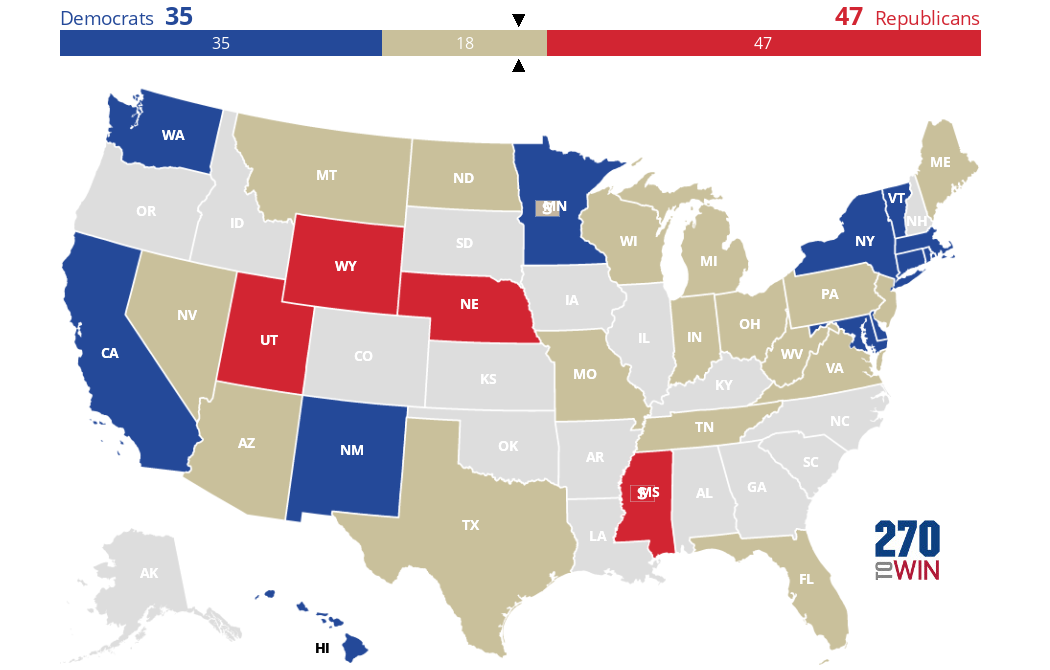 Safe Seats: The 16 seats rated 'safe' by all three of Sabato's Crystal Ball, The Cook Political Report, and Inside Elections. The remaining 18 seats, with the tan shading, are or could become competitive in the eyes of one or more of these pundits. The GOP need only win 3 of these 18 to maintain control.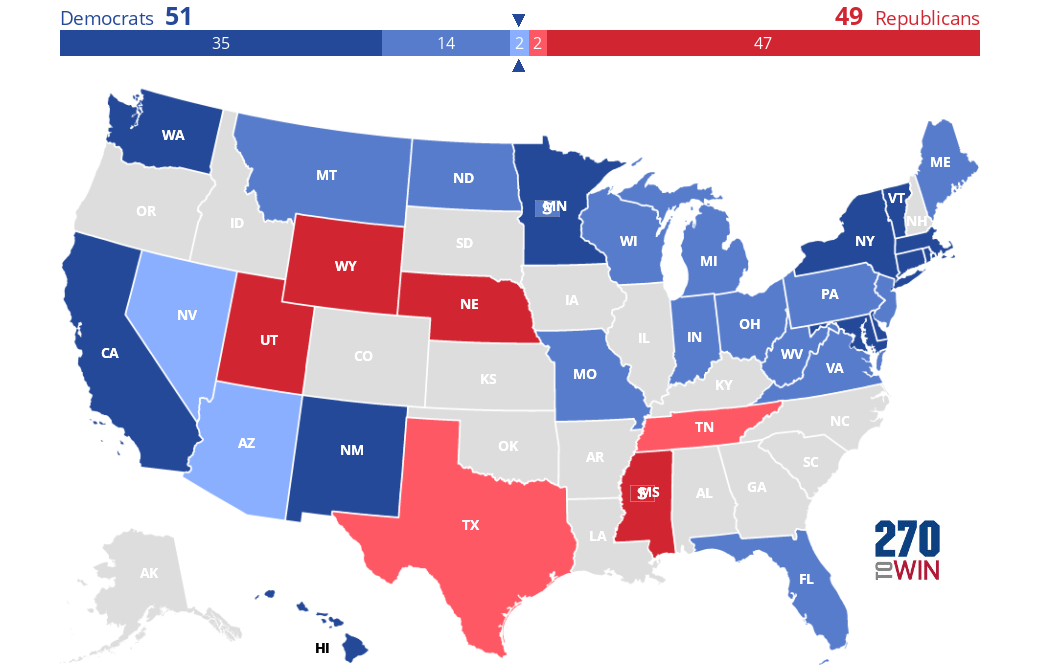 How Democrats Gain Control: The most likely path is for Democrats to defend all the seats they hold (medium blue) and win two Republican-held seats. Arizona and Nevada (light blue) are considered toss-ups by all three pundits and are the most likely route. Absent both of those, Tennessee and Texas (medium red) would be the only other prospects, although Democrats face much greater odds.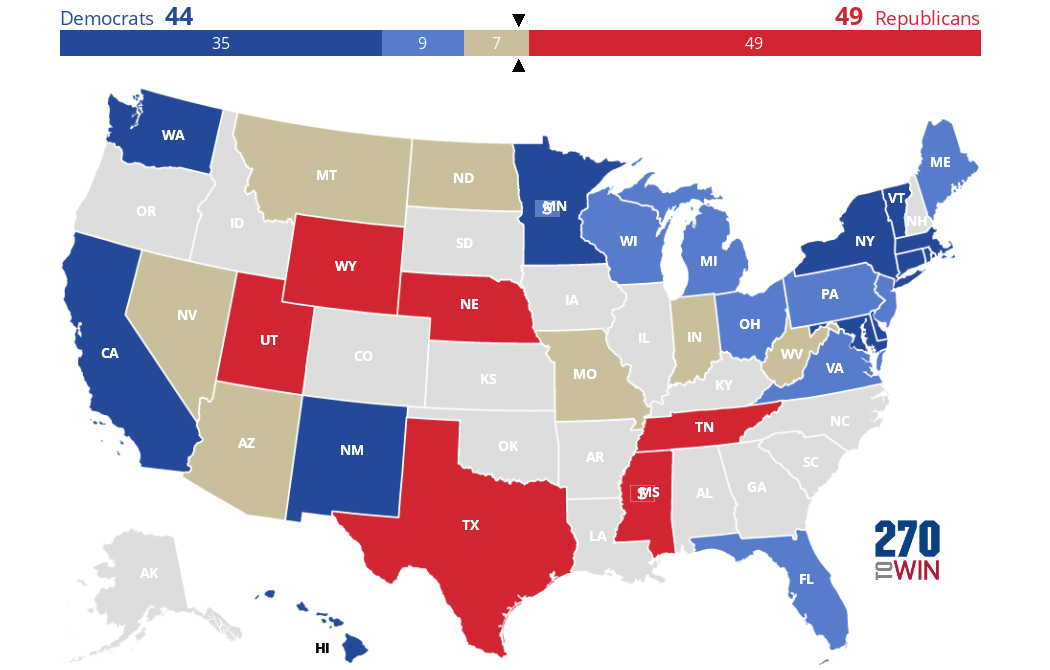 How Republicans Keep Control: This remains the most likely outcome of the 2018 midterms. Any 'Democrats Gain Control' scenario, like the one above, means the party must win 28 of 34 elections. That's no easy feat even if everything goes perfectly for the blue team. However, as we've seen in recent weeks, long political careers can be derailed in a manner of days.
For example, the seat held by Al Franken may well be competitive in 2018; it was previously considered safe Democratic territory. In addition, Democrats must win five states that Donald Trump won in 2016 by 18% or more. In this map, we show those states, plus Republican-held Arizona and Nevada, as in-play (tan). Assuming no other surprises, a Republican win in just one of those 7 states and the GOP keeps control.
comments powered by

Disqus
Headlines