December 5, 2017
UPDATE: Conyers is leaving the House immediately. Michigan Gov. Rick Snyder will determine the date of a special election to fill the seat. It may well be Conyers vs. Conyers in the primary that precedes the election for this safe Democratic seat.
Michigan Democratic Rep. John Conyers, the longest-serving current member of the U.S. House, announced his retirement Tuesday. From CNN:
"I am retiring today. And I want everyone to know how much I appreciate the support that...incredible, undiminished support I've received across the years of my supporters, not only in my district but across the country as well."
Conyers faced allegations that he sexually harassed members of his staff.
It is unclear at the moment if 'retiring today' means resignation or that he is announcing his retirement at the end of this term (or something in-between). In any case, he has endorsed his son, John Conyers III, to replace him.
Conyers is in his 27th term. Next in seniority is Alaska Republican Don Young, who has already announced that he is running in 2018. Here's a list of the 10 current House members with the longest seniority.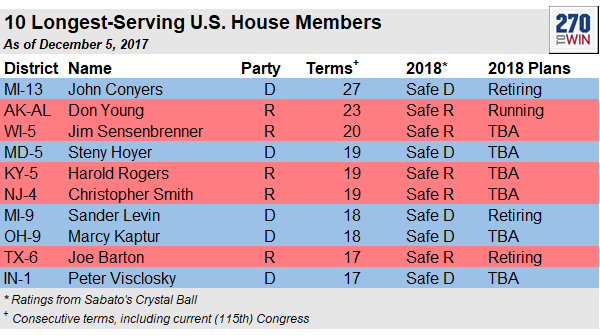 comments powered by

Disqus
Headlines