November 29, 2017
Republican Roy Moore leads Democrat Doug Jones by 5 points in the Alabama Senate race, a new poll from JMC Analytics finds. This is a 9 point reversal from their last survey, which had Jones up by 4. That survey was taken November 9-11, just as the most serious charge leveled against Mr. Moore, an encounter with a 14 year old girl, was becoming public. To that end, a rebound for Moore was not unexpected. JMC Analytics notes that:
"Since the last poll, both Republicans in general and Roy Moore specifically have regained their plurality leads, and this arguably can be attributed to existing partisan preferences' reasserting themselves: in the last poll, Moore was tied 47-47% among male voters and trailed 42-48% among women. While he still trails by a similar 44-50% among women (leaners included), he has rebounded among men and leads 54-37%. Similarly, among self-identified evangelicals, the 57-34% support he had in the last poll is now 64-29%. The numbers barely changed among non-evangelicals, where his 22-73% poll deficit is now 23-72%."
This is the third poll in recent days to find Moore with a small lead. Emerson College had Moore ahead by 6 points*, while Change Research has Moore up 49-44%, the exact same finding as JMC Analytics. (Both these 49-44 results included those leaning to one candidate or the other). This article discusses those results in a bit more detail.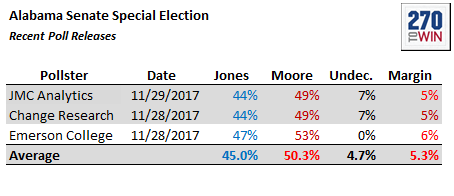 The special election will be held in about two weeks, on Tuesday December 12th.
* Given a 53-47 result, it does not appear as though 'undecided' was available as an option.
comments powered by

Disqus
Headlines