October 3, 2017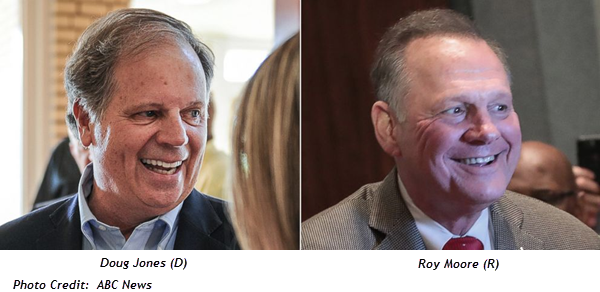 Republican Roy Moore leads Democrat Doug Jones by 8 points in Alabama's upcoming U.S. Senate special election, a new poll finds. The vote, to be held December 12th, is to elect a replacement for former Sen. Jeff Sessions, who vacated the seat earlier this year to become U.S. Attorney General. Moore became the Republican nominee by defeating incumbent Sen. Luther Strange in a party runoff last Tuesday.
This topline result is similar to the first post-runoff poll released late last week. That survey gave Moore a 5 point margin over Jones.
The New York Times provides a nice overview of the party dynamics of the unfolding campaign, which has echoes of the Georgia U.S. House special election from earlier this year.
"It's a very tricky pass for national Democrats," said David Axelrod, the Democratic strategist and former adviser to President Barack Obama. "Jones is a very, very good candidate, but Alabama is a very, very tough state, maybe the toughest state. And you want to avoid the trap that you fell into in Georgia by building expectations for a race that's going to be difficult to win."
Recent statewide elections highlight the long odds facing Jones: The last Democrat to win a U.S. Senate election in Alabama was Richard Shelby, who was reelected to a 2nd term in 1992. Shelby, now in his 6th term, switched to the Republican party in 1994. The state has also voted Republican in the past 10 presidential races, with that party's nominee winning by more than 20 points in the most recent four elections. The last Democrat to win here was Jimmy Carter in 1976.
The winner of the special election will face the voters again in November, 2020, coinciding with the next presidential election.
comments powered by

Disqus
Headlines