2020 New Hampshire Primary: Kasich Leads Trump, Pence
By 270toWin Staff
August 8, 2017
A poll of likely Republican primary voters in New Hampshire finds that Ohio Governor John Kasich would beat either President Trump or Vice-President Pence. Kasich saw 52% support to Trump's 40%, while Kasich led Pence 41% to 27%. About 1/3 of those responding were undecided in the case of Kasich vs. Pence.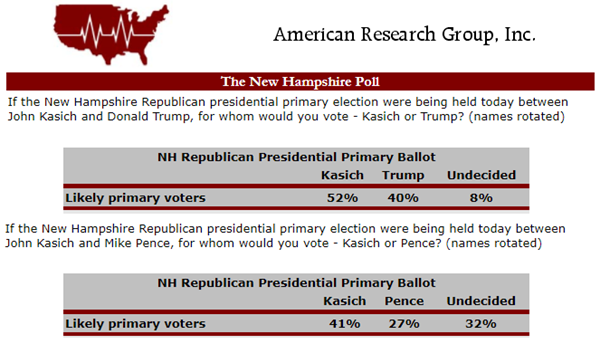 Beyond the many obvious reasons why a poll 900 days before an election is of limited predictive value, we wanted to highlight the note at the bottom of the poll's report:
"This is only the second time since the New Hampshire Poll began in 1976 that potential challengers of the same party were tested against an incumbent president. The first time was in the September 1978 New Hampshire Poll when Jerry Brown and Edward Kennedy were included in a ballot question with Jimmy Carter. In that poll among likely Democratic primary voters, Kennedy took the lead with 40%, followed by Carter at 25%, Brown at 13%, and with 22% undecided."
As in today's poll, the incumbent president -- then Jimmy Carter -- trailed by double digits. However, Carter would go on to win the 1980 New Hampshire primary by nearly 10% and would be renominated for a 2nd term. Carter would eventually be defeated in the 1980 presidential election.
comments powered by

Disqus
Headlines