New Polls Show Tuesday's Georgia Race Still a Nail-biter
By 270toWin Staff
June 18, 2017
Two new polls released Friday indicate Tuesday's special election in Georgia's 6th district continues to be a nail-biter. While Jon Ossoff is at 50% and has a small lead over Karen Handel in both surveys, the spread is narrower than in several other recent polls.
Landmark Communications gave Ossoff a two-point margin over Handel, 50% to 48%. The last Landmark survey, from June 8th, was 50% to 47% for Ossoff. Meanwhile, Opinion Savvy showed Ossoff with just a one-point lead, 50% to 49%.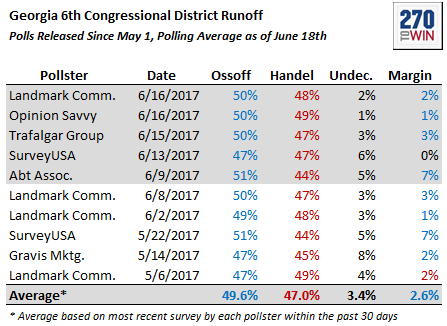 The overall polling average is now Ossoff +2.6%. Ultimately, however, the race will come down to Election Day turnout. Both surveys showed Ossoff with a wide lead among early voters, with Handel expected to fare much better on Tuesday.
comments powered by

Disqus
Headlines