A Look Back at How Trump Outperformed the Polls
By 270toWin Staff
June 3, 2017
The state polls - and thus the conventional wisdom - gave Donald Trump seemingly little chance to aggregate 270 electoral votes and win the 2016 presidential election. Yet he did win, remaking the electoral map by winning several states that had not been won by a Republican in a generation.
Why were the polls off in 2016? This excellent review, from The Upshot (New York Times) found several reasons that the polls were off. "At least three key types of error have emerged as likely contributors to the pro-Clinton bias in pre-election surveys. Undecided voters broke for Mr. Trump in the final days of the race, or in the voting booth. Turnout among Mr. Trump's supporters was somewhat higher than expected. And state polls, in particular, understated Mr. Trump's support in the decisive Rust Belt region, in part because those surveys did not adjust for the educational composition of the electorate — a key to the 2016 race." It is final reason that may have been the largest source of error.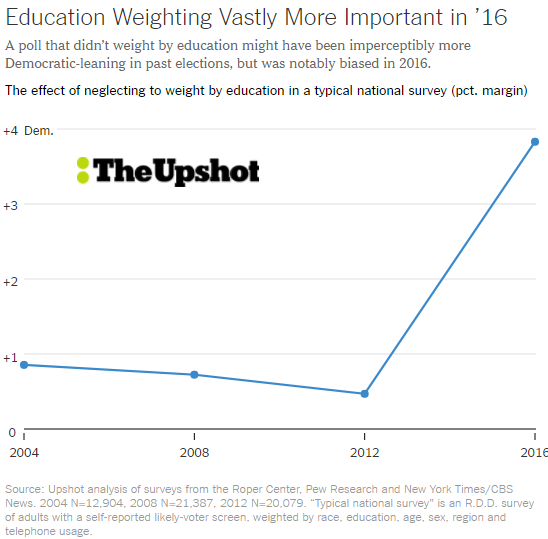 The article provides more detail on each of these issues. It also delves into what is perhaps the more important question. Are the errors fixable so that polling can be trusted going forward? Here the answer is a bit murkier. If the above items accounted for most of the error, pollsters can make adjustments. However, if the root cause is nonresponse from certain segments of the electorate predisposed to one candidate, that is a much more difficult issue to address. In either case, the problem is compounded by the decline in well-designed, high-quality state polling, which has occurred in response to budget pressures on newspapers and other more traditional media outlets.
comments powered by

Disqus
Headlines