Georgia Congressional Race Remains a Toss-up, New Poll Finds
By 270toWin Staff
June 2, 2017
Georgia's 6th congressional district special election remains a nail-biter, a new poll from Landmark Communications for WSB-TV finds. Democrat Jon Ossoff leads Republican Karen Handel by one point, 49% to 48%. Just 3% say they are undecided 2 1/2 weeks out from the June 20 runoff.
Despite the fact that more than $36 million has been spent on this race, the most expensive House election in U.S. history, the findings of this poll are consistent with just about every survey taken since late March. All but one of these polls has found the candidates separated by two points or less, well within the margin of error.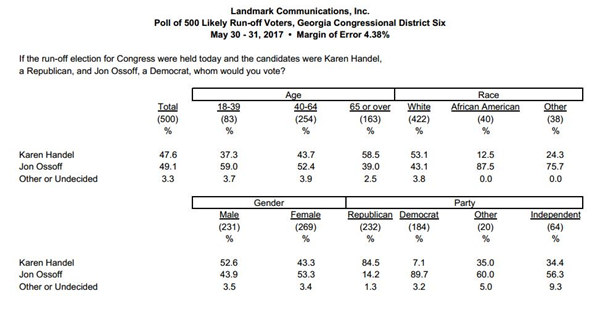 While the overall race is extremely tight, it is notable that Ossoff leads Handel by over 21 points with voters 18-39. Handel has almost as large a lead with voters 65 and over. Although not quite as pronounced as with age, the poll also found a sizable gender gap. Ossoff leads by 10 points among women, Handel by 9 points among men.
comments powered by

Disqus
Headlines