Montana Congressional Special Election Today
By 270toWin Staff
May 25, 2017
Montanans will go to the polls today to fill their at-large Congressional seat. The seat has been vacant since Ryan Zinke resigned on March 1st to become President Trump's Secretary of the Interior. The polls are open until 8:00PM Mountain Time (10:00PM Eastern).
The race, already more competitive than originally expected, was thrown into last-minute turmoil Wednesday night when the Republican, Greg Gianforte was charged with misdemeanor assault after an altercation with a reporter from The Guardian. While Democrats called on Gianforte to withdraw, it is unclear how much of an impact this event will have on today's vote. Over 250,000 ballots have already been returned by mail in a state with just 699,000 registered voters, according to The New York Times. In the 2016 general election, about 517,000 votes were cast in the state. That 74% turnout is unlikely to be replicated for a special election on the Thursday before a holiday weekend. This means the majority of votes in this election have already been cast.
Additionally, while there's no across-the-board data, early voting in many elections is often disproportionately Democratic vis-a-vis Election Day itself, when more Republicans tend to vote. Some of that can be seen in the most recent poll on the race. While finding a 14 point lead for Gianforte, his Democratic opponent Rob Quist held a one point lead among those in the poll who had already voted. The point is: Given the current war on the media from the right, some of today's voters in this conservative state will look favorably on Gianforte's standing up to a reporter.
Libertarian Mark Wicks is the third candidate on the ballot.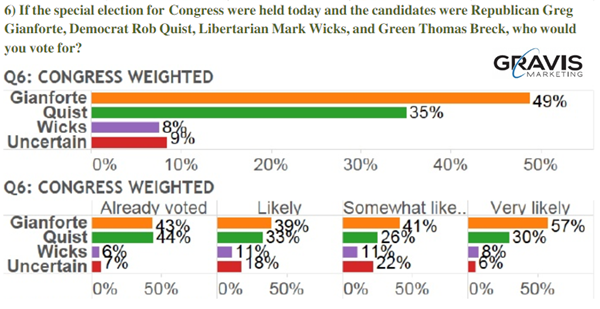 comments powered by

Disqus
Headlines