Georgia Special Election Breaks Spending Record; New Poll Finds Handel Slightly Ahead
By 270toWin Staff
May 6, 2017
The special election in Georgia's 6th congressional district will be the most expensive House race in U.S. history. Meanwhile, a new poll finds a very competitive battle for the June 20th runoff.
Nearly $30 million has been spent on television ads for the battle between Democrat Jon Ossoff and Republican Karen Handel. That, in and of itself, breaks the previous record for money spent on a House race*. However, the record is shattered when adding in the millions more being spent on mailers, radio, etc. So much money is coming into this race that the Atlanta NBC station has added an additional news broadcast to enable them to run all the ads that have been purchased.
A new poll from Landmark Communications gives Handel 49.1% to Ossoff's 46.5%, with slightly under 5% undecided. This result is well within the poll's 4% margin of error. The Republican vote, split across multiple candidates in the April 18th special election, has consolidated behind Handel. While she has a small lead, the poll found that "nearly 6 in 10 independents – a crucial voting bloc in Georgia that typically breaks for the GOP – backs Ossoff's campaign." The survey included 611 likely voters.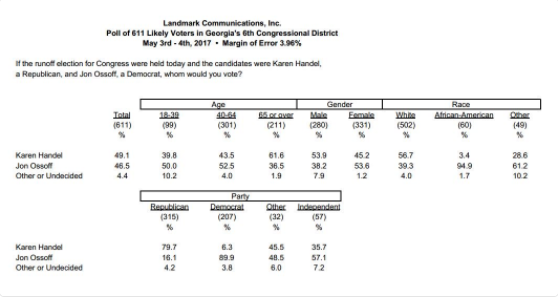 * For those interested, $29.6 million was spent (in total) in the 2012 race between first-term Republican Alan West and Democrat Patrick Murphy in Florida's 18th congressional district. Murphy prevailed by less than 1%.
comments powered by

Disqus
Headlines