Ossoff, Handel Advance to Runoff for Georgia Congressional Seat
By 270toWin Staff
April 19, 2017
From the New York Times: "Jon Ossoff, a Democrat, and Karen Handel, a Republican, advanced to a June 20 runoff in the special election for the [Georgia 6th Congressional District] U.S. House seat vacated by Tom Price, the new health and human services secretary." Ossoff received 48% of the vote, just short of the 50% threshold to avoid the runoff. Handel came in 2nd, her 20% tally outpacing a large group of Republicans on the nonpartisan primary ballot.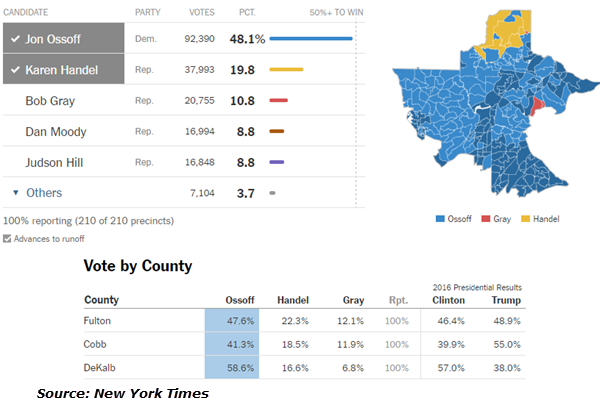 The election was seen as an early referendum on Donald Trump's presidency, thus drawing national attention. Democrats pinned their hopes on Ossoff, a filmmaker and former congressional staff member. He raised over $8 million, far above anyone else in the race. In the end, all that money and energy helped Ossoff slightly outperform Hillary Clinton in each of the three counties making up the district (see Vote by County in above graphic). However, it was not enough to avoid the June runoff.
Republican vote was split primarily between four candidates. Handel, the former Georgia Secretary of State, bested businessman Bob Gray and two former State Senators to achieve the 2nd spot in the runoff. Total vote across all eleven Republicans in the field was 51%, vs. 49% for the five Democrats.
comments powered by

Disqus
Headlines