Current Pundit Ratings on this Spring's Five Congressional Special Elections
By 270toWin Staff
April 10, 2017
The first of five special elections to fill vacancies in the U.S. House of Representatives will be held on Tuesday. That race, in Kansas' 4th congressional district became open after Mike Pompeo resigned to become Director of the CIA. While this is a deeply red district, the race has recently shown signs of becoming more competitive. The Hill reports that Democrats in the district have been energized by Trump's low approval ratings. In addition, the Republican nominee, State Treasurer Ron Estes, has apparently run a very poor campaign.
Pompeo won reelection by 32 points in November, while Trump won by 27 points within the district. A Democratic victory here remains a highly unlikely outcome. That said, The Cook Political Report and Inside Elections have recently updated their ratings from 'safe' to 'likely' Republican. Sabato's Crystal Ball remains at 'safe'.
The table below highlights these pundit ratings for all five special elections to be held over the next couple months.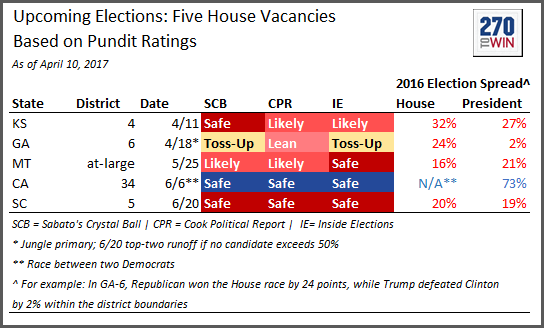 Up next is the GA-6 'jungle primary' next Tuesday, April 18th. This is the most competitive of the five races this spring. Democrat Jon Ossoff is expected to easily lead the large field when voting is complete. He is polling in the low 40s, while Republican support is spread across multiple candidates. The big question is whether he can get over 50% of the vote, to avoid a runoff in June. This is a Republican-leaning district, so Ossoff's best chance at flipping the seat may be next Tuesday.
Montana's single congressional seat will be contested on May 25th. This seat is likely to stay in Republican hands, although Montanans have elected a Democratic Senator and a Democratic governor.
We know California's 34th District will remain in Democratic hands. The recent top-two primary was won by two Democrats. They move on to the general election on June 6th.
The final current vacancy, in South Carolina's 5th district, will be filled on June 20th. At this time, all pundits see it remaining safely under Republican control.
comments powered by

Disqus
Headlines